Pfizer CEO leaves 'extremely demanding' job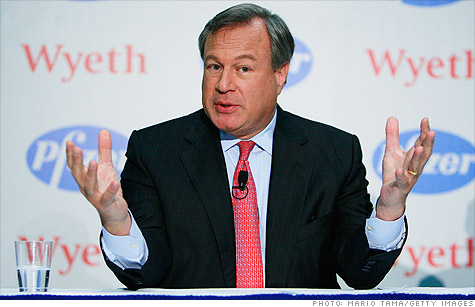 NEW YORK (CNNMoney.com) -- Pfizer said CEO Jeffrey Kindler has retired from the job because it had been "extremely demanding" on him personally.
The drug maker named the head of its global biopharmaceutical operations, Ian Read, as Kindler's successor.
"The combination of meeting the requirements of our many stakeholders around the world and the 24/7 nature of my responsibilities has made this period extremely demanding on me personally," said Kindler in a prepared statement released late Sunday. "I am excited at the opportunity to recharge my batteries, spend some rare time with my family, and prepare for the next challenge in my career."
Kindler had been at Pfizer for 9 years and CEO for four and a half of those years.
During Kindler's time at the helm, Pfizer acquired Wyeth, completing the transaction on Oct. 15, 2009. Since then, the work force has been reduced by 6,900 workers.
As of May, the total work force was approximately 113,800, down from 138,000 people that were employed by both companies in 2008. The company plans to reduce the total to 107,800 in five years.
Pfizer shares eased 0.6% in premarket trading.