Wall Street to employees: Want a holiday party? Pay up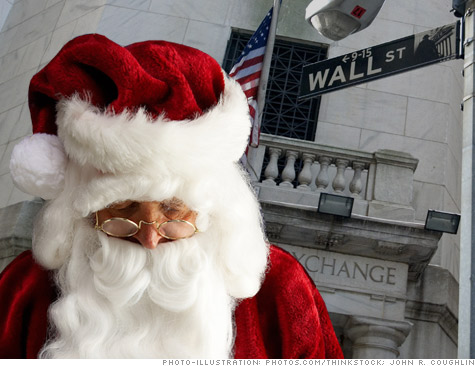 NEW YORK (CNNMoney) -- The big banks are logging record profits and doling out sky-high bonuses. But celebration doesn't come free this holiday season: Some Wall Streeters must pay to attend their own holiday parties.
One Morgan Stanley employee said she has to kick in $30 to attend her holiday shindig, which is going to be a small get together with her division at a low-key restaurant. The amount of money employees are asked to donate to the party fund depends on rank, she added, with the managers picking up the biggest part of the tab.
"Times have changed from when I first started working in the industry and we wore formal dresses and had professional photographers, three-course seated dinners, open bars and 20-piece bands for dancing," she said.
A Morgan Stanley (MS, Fortune 500) spokeswoman confirmed the pay-for-play parties. "The firm won't be paying for holiday parties this year," she said. "Divisions and departments within the firm can have holiday parties but those are events that employees would pay for themselves."
The investment bank instead highlighted its charitable contributions, as did Bank of America (BAC, Fortune 500). Both banks stopped funding holiday parties when the recession hit in 2008.
"We do not host or fund corporate-wide, regional, line of business or staff holiday parties," a Bank of America spokeswoman said in an e-mailed statement. "Individual lines of business or staff groups may organize initiatives to benefit local charities such as food or clothing collection drives."
If managers want to throw holiday parties for their division, they will have to ask employees to reach in to their own pockets to fund the event, she added.
JPMorgan Chase (JPM, Fortune 500) and UBS (UBS) aren't holding firm-wide parties either.
"As far as renting out a ballroom or bar for an all-staff Christmas party, we're not doing that anymore," a UBS spokesman said. "Individual groups are having smaller business parties, and most seem to be doing something more subdued, like a luncheon with teammates."
The same goes for American Express.
That's a big change from the past, when the financial giant was known for throwing lavish holiday parties.
"It was in a big hotel with dancing, food, and the CEO came out and thanked everyone for their hard work and contributions. It was a nice reward for a job well done," remembered an employee, who asked to remain anonymous.
"Now, as far as I know, each department gets some limited budget to do their own thing, but they're usually not parties -- could be team lunch or drinks, and some employees organize their own, self-funded things."
He said the closest thing to a holiday party his team held this year was a small happy hour after an offsite meeting.
"I wouldn't call it a party," he said. "People have to be a little more humble these days. There are still lots of people out of work."
American Express (AXP, Fortune 500) was not available for comment.
While other companies may not be asking employees to chip in their own money for a holiday bash, the no-party policy is becoming increasingly common across the board.
Only 79% of businesses expected to throw a holiday party this year, according to a survey released last month by research firm Amrop Battalia Winston. That's the worst turnout since at least the 1980s.