No holiday cheer for Best Buy. Stock plunges.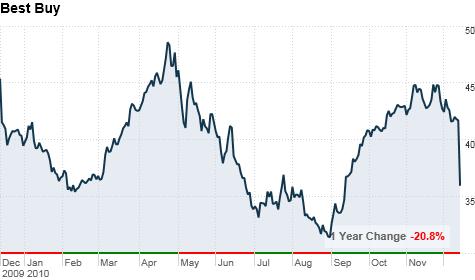 NEW YORK (CNNMoney.com) -- Best Buy's stock plunged on Tuesday after the retailer reported sales and earnings for the quarter which includes Black Friday that missed Wall Street's estimates. The company also lowered its guidance.
Best Buy reported that revenue totaled $11.89 billion in the third quarter, which ended on Nov. 27. That's a decline from $12 billion during the same quarter a year ago. It also fell short of expectations from analysts, who had forecast $12.45 billion, according to a consensus from Thomson Reuters.
Best Buy's (BBY, Fortune 500) stock fell about 14% after the opening bell.
Best Buy's dismal performance was in spite of an overall nationwide rise in retail sales. The Commerce Department reported on Tuesday that retail sales rose 0.8% in November.
"Best Buy was not effective promotionally around Black Friday," said Colin McGranahan, analyst for Sanford C. Bernstein.
As a result, he said the retailer was unable to take advantage of a "shift towards online sales in consumer electronics."
Best Buy also reported diluted earnings per share of 54 cents for the third quarter. That's an increase of one cent from the same quarter last year. But it was significantly lower than analysts' estimates of 61 cents per share.
The company lowered its guidance for the fiscal year to a range of $3.20 to $3.40 a share, compared to its previously announced guidance of $3.55 to $3.70. Analysts had been forecasting a profit of $3.59 a share.
Best Buy said that its same-store sales dropped 3.3% for the quarter, compared to a gain of 1.7% in the year-ago quarter.
Shares of rival electronics retailer RadioShack (RSH, Fortune 500) slipped about 2%. Shares of Corning Corp., (GLW, Fortune 500) which provides glass for flat screen TVs, an important product for Best Buy - fell about 2%. Best Buy specifically cited disappointing television sales in its earnings report.