Fed: Recovery still not strong enough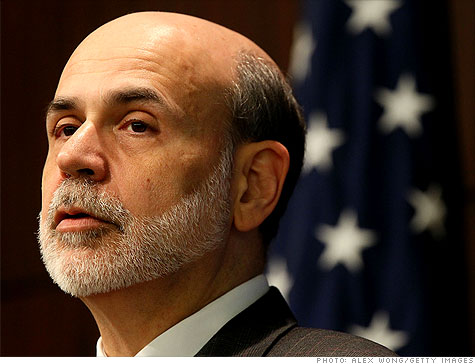 NEW YORK (CNNMoney.com) -- The Federal Reserve said the nation's economy is still recovering, but not fast enough for it to drop its controversial efforts to spur greater growth.
At the final meeting of 2010 ended Tuesday, the central bank left its key interest rate near zero, where it has been for the last two years. In its statement, the Fed said it is moving ahead with plans to pump $600 billion into the economy through the purchase of long-term Treasuries.
The Fed said it anticipates a gradual return to a more normal economy, but that "progress toward its objectives has been disappointingly slow."
At its Nov. 3 meeting, the Fed announced plans to start a second round of Treasury purchases, a policy commonly known as quantitative easing or QE2, sparking criticism from overseas finance officials, leading Republican politicians and even some officials with the central bank itself.
Critics worry the purchases, designed to drive down interest rates in an effort to spur spending, could lead to a weaker dollar, asset bubbles and a return of high inflation.
But Tuesday's statement said that while prices appear to be stable, "measures of underlying inflation have continued to trend downward."
Keith Hembre, chief economist of First American Funds, said he was somewhat surprised that the Fed didn't acknowledge signs in recent economic readings that the U.S. economy is starting to pick up speed.
"You look at economists, they've been tripping over each other to raise forecasts in the past few weeks," he said. "When you have an improvement in fundamentals and you don't acknowledge it, you tend to weaken the credibility you have."
But Hembre said that the two measures the Fed focuses on beyond all others -- jobs and inflation, still show weakness, with a disappointing November jobs reading and a key inflation reading at a record low.
But the criticism that the Fed has received is the likely reason it was reluctant to acknowledge signs of improvement in the economy, said Paul Ballew, chief economist with Nationwide Insurance.

"Clearly, they want to justify the rationale for QE2," said Ballew. "Sometimes you've got create air cover for your actions."
The Fed was forced to turn to QE2 to try to spur growth because it couldn't cut its key short-term interest rate, the fed funds rate, any lower. That rate is used as a benchmark for a wide variety of consumer and business loans. The Fed reiterated Tuesday that it expects that rate to remain "exceptionally low" for an "extended period."
Kansas City Fed President Thomas Hoenig, attending his last meeting of Fed policymakers as a voting member, once again dissented as he has every meeting during his current one-year tenure. But while Hoenig is rotating out, several other Fed presidents who are also critics of Fed policy are set to join the policy-making committee at its next meeting.