New wind power technology: Offshore, stealth turbines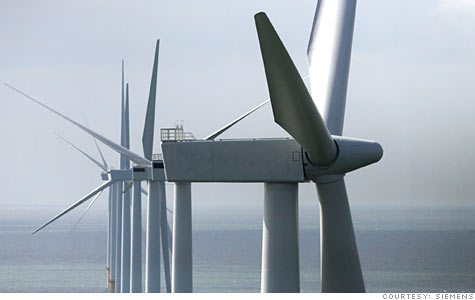 NEW YORK (CNNMoney.com) -- Stealth technology for wind turbines is just one of the latest examples of advances in wind power that aim to make the renewable resource more competitive with fossil fuels.
Applying the stealth capability is an effort to solve a persistent problem with the massive turbines: ground-based radar stations mistake them for incoming aircraft.
Using the technology allows wind farms to be sited closer to civilian or military radar installations. Often, the remote locations that are well suited for military bases, are also good for wind development.
Comrades in arms: Instead of clashing, the wind industry and the defense department have formed a symbiotic relationship.
"They are enthusiasts," Ian Chatting, vice president of global research at Danish turbine maker Vestas, said of working with military personnel on wind farm developments.
Whether it's a fascination with a technology borne out of the aircraft industry or simply a desire to be more energy independent, Chatting said the support the company gets from militaries in both Europe and North America is "quite the opposite of what one would expect."
To make the towers stealth, Vestas (VWSYF) adopted material from the military, made it cheaper, and placed it in the tips of the turbines's rotors.
Green technology vs. black gold: A wide range of technology is being developed, besides stealth, to make wind power more competitive with coal and natural gas in generating electricity. Wind turbines need to be lighter, cheaper, and overall, become more prevalent.
Because most new wind technology is still under development, companies industry-wide did not want to discuss specific proprietary ideas, but they did discuss general concepts that they are all working on.
At General Electric (GE, Fortune 500), one of the world's largest turbine makers, researchers are experimenting with a nano-engineered coating that is "ice phobic."
Using technology gleaned from the lotus flower, the idea is to make a synthetic material that sheds water, preventing the formation of ice that can hamper a turbine's performance.
"We're literally confounding some of the laws of physics," said Todd Alhart, a spokesman at GE's research lab in upstate New York.
GE is also working on rotor blades that can flex with the wind, allowing some wind to escape if it gets too windy, installing miniature jets in the blades to help with propulsion, and building blades with perforated edges to cut down on noise.
Like every company in the space, working on weight is a key issue.
Generally, the bigger the turbine, the more electricity it can generate. But bigger is also heavier. Much heavier.
On a 2.5 megawatt turbine each rotor blade is roughly 50 yards long and weighs 10 tons.
If the blade is increased to 70 yards, which would allow that machine to capture more wind, the weight jumps to 30 tons.
GE is working on a number of different composite materials and components that would make the turbines lighter, said Keith Longtin, the company's wind technology leader.
Where bigger really pays off is in offshore wind farms.
Offshore is thought to be the the next frontier in wind development. The wind is generally stronger and steadier offshore, and the farms can be sited closer to major population centers without disrupting too many people.
But it's expensive to install a turbine offshore, so getting more bang for the buck is essential. Offshore turbines can run 4, 6 even 10 megawatts as opposed to on-shore turbines that are often in the 2.5 megawatt range.
Siemens (SI) executives are among a chorus of wind industry insiders that say bringing down the cost of offshore wind is one of the most important things that needs to happen for the technology to progress.
Now, most offshore wind installations, which require massive foundations and miles of cable, are done using equipment and processes that were developed for the oil industry, where each project is unique and has specific requirements.
The wind industry needs ships and other installation equipment specifically designed for it. Wind projects are more standardized and with the right equipment, they could be duplicated en masse.
"The work needs to be click, click, click and on to the next," said Siemens chief wind technology officer Henrik Stiesdal. "Offshore wind cannot compete unless you get the infrastructure costs down."