Stocks drift as markets shrug off Spain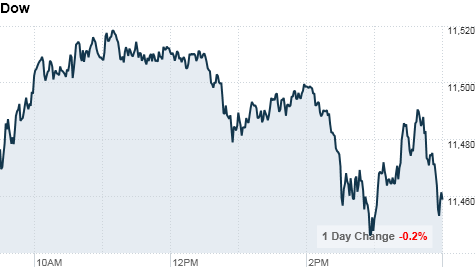 NEW YORK (CNNMoney.com) -- December has been a good month for U.S. stocks, so this week's lackluster action isn't upsetting investors much. Stocks have managed to eke out gains over the past few sessions and are up 5% for the month.
On Wednesday, the Dow Jones industrial average (INDU) lost 19 points to end 0.2% lower at 11,457.47. The S&P 500 (SPX) shed 6 points, or 0.5%, and the Nasdaq (COMP) fell 11 points, or 0.4%.
Unless there's some major news to drive investors to the sidelines, it looks like all three major indexes will see double-digit percentage gains for the year. In Wednesday's session, investors weighed worries about a possible Spain downgrade with relatively upbeat U.S. inflation data.
"If news like [Spain] had been a surprise, we'd have seen the Dow off by 1% or so," said Paul Radeke, vice president at KDV Wealth Management. "But everyone knows [Spain] was having trouble with their debt markets. People are looking to the domestic data."
Investors are also looking for Congress to extend the Bush-era tax cuts. The Senate approved the controversial $858 billion tax package Wednesday, despite a series of objections from both the left and the right. The measure, which passed 81-19, now advances to the House of Representatives.
On Tuesday, U.S. stocks eased off earlier gains but finished higher.
Economy: Investors were focusing on the main U.S. inflation gauge. The consumer price index ticked up slightly in November, and right now investors see "a little bit of inflation as better than any deflation," Radeke said.
Peter Boockvar, equity strategist at Miller Tabak & Co., said investors were waiting to see if the recent upbeat reports will continue.
"Investors are hoping this goodwill carries into 2011," he said. "But no one knows what's going to happen over the next two weeks."
Wednesday's data continued the positive trend, with consumer prices rising a seasonally adjusted 1.1% on an annual basis. The consumer price index increased 0.1% month over month in November, slightly less than the 0.2% rise economists were expecting. Meanwhile, the core CPI -- excluding food and energy -- increased 0.1% in November, in line with expectations.
A monthly survey of manufacturers in New York State from the Federal Reserve Bank of New York showed that conditions improved in December.
World markets: Moody's said it might downgrade Spain's local and foreign currency government bond ratings, citing high refinancing needs in 2011 among other issues. That sent the IBEX, Spain's main stock index, down about 1.4%.
Other European stocks also closed lower. Britain's FTSE 100 lost less than 0.1%, while France's CAC 40 lost 0.5%. The DAX in Germany fell 0.1%.
Asian markets ended lower. The Shanghai Composite gave up 0.5%, the Hang Seng in Hong Kong plunged 2%, and Japan's Nikkei lost 0.1%.
Companies: Switzerland-based Novartis announced a deal to buy the remainder of eye care company Alcon (ACL) for $12.9 billion. Shares of Alcon ended 1% higher.
Boston Beer (SAM), the brewer of Sam Adams and other beers, raised its earnings forecast for the remainder of this year and into 2011. Shares surged 12%.
Currencies and commodities: The dollar gained against the euro, the Japanese yen and the British pound.
Oil for January delivery gained 34 cents to settle at $88.62 a barrel.
Gold futures for February delivery fell $18.10 to settle at $1,386.20 an ounce.
Bonds: The price on the benchmark 10-year U.S. Treasury ticked lower, pushing the yield up to 3.52%.