GM turning BP oil spill booms into Volt parts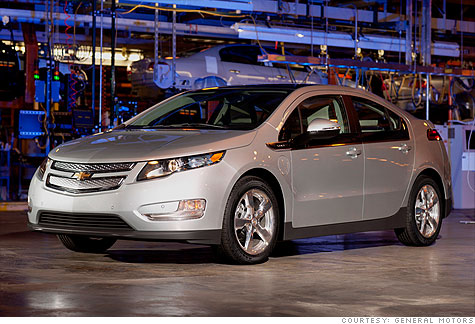 NEW YORK (CNNMoney.com) -- General Motors is collecting about 100 miles of plastic booms once used to contain the BP oil spill in the Gulf of Mexico, and will use recycled plastic from those booms to make Chevrolet Volt electric cars, the automaker announced Monday.
Roughly 100,000 pounds of plastic will be used to make shrouds that will cover radiator fans in the Volt's engine compartment. Besides the plastic from the oil boom plastic, the materials used in the shrouds include recycled tires once used at GM's Milford Proving Grounds, as well as various post-consumer plastics.
The oil boom plastic will be used in the 2011 model year Volts which are now on sale. Some material will probably be left over to use in other cars, as well, a GM spokeswoman said.
"Creative recycling is one extension of GM's overall strategy to reduce its environmental impact," Mike Robinson, GM vice president of Environment, Energy and Safety policy, said in an announcement.
With the help of outside companies, the automaker began collecting and processing the oil booms in June, and the work is expected to go on for at least another two months.
"If sent to a landfill, these materials would have taken hundreds of years to begin to break down and we didn't want to see the spill further impact the environment," said John Bradburn, manager of GM's waste-reduction efforts, in the GM announcement. "We knew we could identify a beneficial reuse of this material given our experience."
GM has been working to improve the environmental image of its Chevrolet brand with a campaign centered around the Volt. A recently launched Chevrolet-branded carbon reduction campaign includes a Web site at Chevycarbonreduction.com. The automaker also recently announced that more than half its factories are now "landfill free."