Hewlett-Packard: The biggest dog of the Dow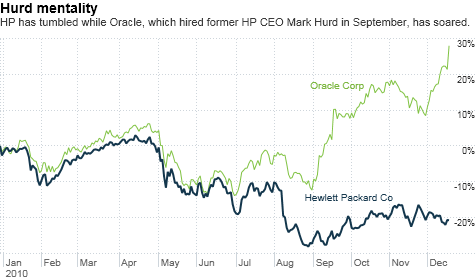 NEW YORK (CNNMoney.com) -- Software sultan Oracle reported strong quarterly results Thursday, lifting its already hot stock up another 6% Friday. For shareholders of Hewlett-Packard, it's a painful reminder of the good old days.
HP, down nearly 20%, is the worst performing stock in the Dow Jones Industrial Average this year.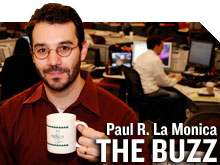 Much share price decline has taken place since Mark Hurd -- who was widely praised for turning HP (HPQ, Fortune 500) into a lean, mean cost-cutting machine -- resigned on August 6 in the wake of an expense reporting/sex scandal.
Oracle (ORCL, Fortune 500) quickly scooped up Mark Hurd in September to be its co-president (and possible successor to the seemingly ageless Larry Ellison?), while HP stunned investors by picking former SAP (SAP) CEO Léo Apotheker to replace Hurd.
Can HP bounce back in 2011?
The funny thing is that other than Hurd's departure, not much has really changed at HP in the past few months. It's mainly a matter of perception.
Analysts have actually steadily raised their earnings forecasts over the past three months for HP in fiscal 2011 and 2012. The stock now trades at just 8 times fiscal 2011 earnings estimates -- even though analysts expect profits to increase by 14%.
IBM (IBM, Fortune 500), a key competitor to HP in the server, software and services fields, trades at nearly 12 times 2011 earnings forecasts. For it, analysts are predicting a profit increase in 2011 of less than 10%.
"Investors are taking a wait-and-see attitude with HP," said Shaw Wu, an analyst with Kaufman Brothers in San Francisco. "But the stock now trades at an unfair discount. HP hasn't gotten credit for progress the company has made."
HP, which was a fairly acquisitive company under Hurd, has continued its shopping spree. Most notably, the company outbid rival Dell (DELL, Fortune 500) for storage company 3PAR this fall.
Wu said he thinks HP will continue to make deals to expand beyond the less-profitable PC business and slower-growth printer business.
He added that the hiring of Apotheker -- which caused a lot of head-scratching in Silicon Valley and on Wall Street, since two HP insiders were widely thought to be the front-runners to succeed Hurd -- is a signal that HP wants to do even more to bolster its software business.
Software currently makes up only 3% of HP's sales and 6% of its profits. But the business is ridiculously profitable, boasting operating margins of 25% in HP's most recent quarter. By way of comparison, HP's much larger PC business had razor-thin operating margins of just 5%.
Still, it may take some time for investors to warm to Apotheker. Hurd was so loved by Wall Street for getting the company back on track after Carly Fiorina's ill-fated merger with Compaq, it almost doesn't matter that HP's fundamentals still look solid.
I met with a fund manager earlier this week who said he sold his entire position in HP during the third quarter after the stock took a big dive when Hurd left.
"I had to pull the plug on HP," said Harvey Neiman, manager of the Neiman Large Cap Value Fund in Rancho Santa Fe, Calif. Before Hurd's ext, HP was a significant position in his fund: It was the 8th largest holding as of the end of the second quarter.
Since Hurd's hiring, Oracle's Ellison has stepped up the anti-HP rhetoric. That probably isn't helping HP's stock. On numerous occasions, Ellison referred to HP's servers as "slow" and "expensive."
During Thursday's analyst call, he went even further by suggesting that HP is "vulnerable" to market share losses. Oracle, which completed its purchase of Sun Microsystems earlier this year, now competes with HP on more than just the software front.
And Hurd, who has been careful to not take any direct potshots at his former employer, did notably say on Thursday's call that "all of our competitors, as Larry mentioned, are reacting to us."
Still, there are some significant defenders of HP stock. The Dodge & Cox Stock Fund, which is the largest mutual fund holder of HP, bought even more shares in the third quarter. Disclosure: I own this fund in my 401(k) plan.
In the fund's third-quarter report to shareholders, portfolio managers John Gunn and Kenneth Olivier wrote that even without Hurd, the company has "a deep management team" and that its "long-term opportunities remained intact."
But with Ellison talking trash about HP every chance he can get and investors still nervous about whether HP made the right choice with Apotheker, it may take a couple of quarters of impressive earnings before Wall Street starts believing in HP again.
Alan Creech, manager of the Marshall Large Cap Growth Fund in Milwaukee, said he sold his stake in HP -- as well as Dell and IBM -- last month. He thinks that other, more rapidly growing tech companies, like Oracle, VMWare (VMW) and NetApp (NTAP), are more attractive.
Creech said that even though HP does need to do more in the software business, Apotheker has a lot to prove because HP still generates most of its sales from computers, servers and printers.
"I like the company for the longer-term. But HP is still a hardware company, and you now have a software executive running the whole business," he said. "In the near-term, that's a concern."
Reader comment of the week I wrote about Apple earlier this week and how the stock still looked attractive even at a price of more than $320 a share. It's important to remember that some stocks that enjoy huge run-ups aren't necessarily overvalued if the fundamentals are there to back up the price.
One reader, who goes by Brother John of Dallas on Facebook, thinks I'm, uh, preaching to the choir with that point.
"Man, I wish I had bought Apple when they were 'expensive' in 1999-2000. And I also balked at Google when they crossed the $200 mark years ago. So many opportunities, so little money," he wrote.
Can I get an Amen?
-- The opinions expressed in this commentary are solely those of Paul R. La Monica. Other than Time Warner, the parent of CNNMoney.com, and Abbott Laboratories, La Monica does not own positions in any individual stocks.