'Put up or shut up' on debt - senator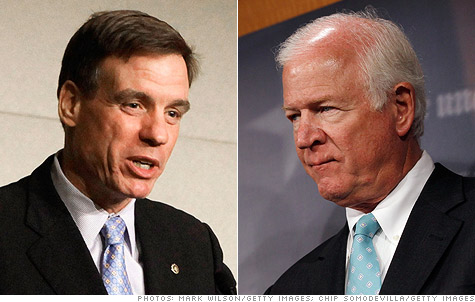 NEW YORK (CNNMoney.com) -- With the enactment of an $858 billion tax cut and stimulus package last week, it may seem as if those calling for deficit reduction are spitting into the wind.
But don't be surprised if the Senate takes up the issue in 2011.
A bipartisan group of 18 senators have called on the Senate to tackle debt reduction by the end of next year.
"It is time for us in the Senate -- excuse the language -- to put up or shut up," said Democrat Mark Warner of Virginia on the Senate floor last week.
Warner and Republican Saxby Chambliss of Georgia formed the group over the summer during a number of informal meetings they convened to educate themselves and colleagues about the debt.
Last week, during the debate over extending the Bush tax cuts, all 18 members gave short speeches calling for a serious debt-reduction plan and comprehensive tax reform before 2012.
As part of that effort, Warner and Chambliss plan to introduce the report of President Obama's fiscal commission as Senate legislation next month. (Here's a breakdown of what's in the report.)
"At the very least, their recommendations can serve as a starting point for a serious debate on how we can ensure a better life for our children and our grandchildren," Chambliss said.
It would be a heavy lift for Congress to agree on a plan for both debt reduction and tax reform in the next 12 months.
But the group could provide influential support for any serious ideas proposed by the White House.
President Obama has promised to make tax reform a top agenda item in the next two years. And he has promised to deliver a 2012 budget proposal that provides options to reduce debt in earnest over the next decade.