China is hot. But is it too hot?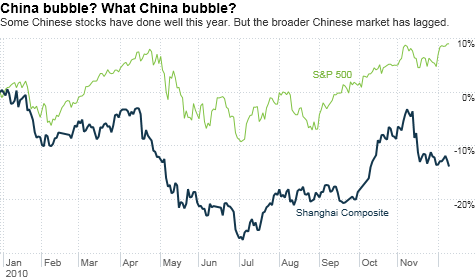 NEW YORK (CNNMoney.com) -- China's economy, to quote the alter ego of New York Dolls frontman David Johansen, is hot hot hot.
Name an asset and there are worries that it may be a bubble in China. Several experts, most notably short seller James Chanos, have speculated that China's real estate market is too frothy, for example.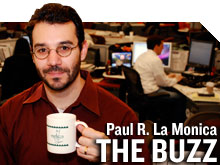 The People's Bank of China (basically the Chinese equivalent of the Federal Reserve) has already lifted reserve requirements for banks several times in the past few months as an attempt to cool the economy down.
Fears of runaway inflation -- China's consumer price index rose at an annual rate of 4.4% in October -- have led to speculation that the PBOC will raise interest rates before CPI for November is announced on December 13.
And if you look at how well shares of Chinese Internet stocks have been doing lately, it's hard not to wonder if China is a bubble about to burst.
Youku (YOKU) and E-Commerce China Dangdang (DANG) (referred to as China's YouTube and China's Amazon.com (AMZN, Fortune 500) respectively) had spectacular debuts in their initial public offerings Wednesday.
Youku more than doubled from its offering price and is up another 16% Thursday while Dangdang tacked on another 4% following an 87% jump. And search engine Baidu (BIDU), which traders have dubbed China's Google (GOOG, Fortune 500), have surged 162% so far this year.
Despite this, some experts think that the worries about China are overblown.
Eric Jackson, managing member at Naples, Fla.-based hedge fund Ironfire Capital, said he does expect China to raise rates soon. But he does not think that will derail the country's impressive growth.
"One rate hike here or there is not going to stop the momentum," he said. "China is basically the one engine on this global airline that's powering the entire world."
Jackson, whose firm owns shares of Dangdang as well as Chinese online portal Sina (SINA), said that China realizes it has to do what it can to combat a recent surge in food prices, an increase that's partly due to the Fed's low interest rate policy and the impact that's had on the dollar and commodities.
"The biggest threat facing the Chinese economy is a rise in commodity prices and potential for food shortages," he said.
Alice Fricke, who covers Asian equities for Auerbach Grayson, a broker dealer in New York, added that China's central bank realizes that raising interest rates is also a way to combat criticism that the country is keeping the value of its currency artificially low.
The U.S. and others around the world have often complained about the value of the yuan (also referred to as the renminbi) and that a lower yuan gives China an unfair advantage in terms of global trade since it makes Chinese exports cheaper.
"Do I think China will raise rates? Yes. Whether they do it now or next year, they will do it," Fricke said. "China is trying to slow down inflation ahead of time because they don't like being accused of keeping the renminbi too low."
Fricke adds that worries about China's economy being a bubble about to burst also seem misplaced.
She points out that even though there are individual success stories in the Chinese stock market, the Shanghai Composite has taken a big hit this year. Meanwhile, the S&P 500 has enjoyed a nearly double-digit percentage gain.
"When you look at how China has done for the past year, thousands of stocks are down. It has been a stock picker's market," she said.
Still, concerns about China going too far with interest rate hikes may persist until it's clear that China won't put the global economic recovery at risk by taking steps to rein in its own growth.
Doug Roberts, chief investment strategist for ChannelCapitalResearch.com, an investment research firm based in Shrewsbury, N.J., said he is not worried this will happen.
He agreed with Fricke that rate hikes will act more as a counterbalance to the effect of the low value of the yuan as opposed to something that will lead to a major slowdown in China's growth.
Another fund manager also pointed out that the various moves China has taken to combat inflation are also designed to try and encourage Chinese consumers to buy more. Ultimately, that's something that large multinational companies in developed markets will applaud.
"Some people may be jealous of China's growth and that may be a reason why the government isn't getting enough credit for taking steps to get inflation lower again," said Guido Stiel, senior portfolio manager for global emerging markets with RCM, a money manager owned by Allianz Global Investors, in Frankfurt. "China is putting a lot of effort into increasing domestic demand."
At the end of the day, Roberts said China is savvy enough to realize that protectionist policies would backfire.
He notes that despite laments from Chinese officials about the Fed's quantitative easing programs and the impact that has had on the U.S. dollar and the value of Treasury bonds, China has continued to scoop up long-term U.S. debt.
According to the most recent data from the Treasury Department, China held $883.5 billion in Treasuries, making it the largest foreign owner of U.S. debt. What's more, China has increased its Treasury holdings for the past three months.
So sure, China may not like what quantitative easing is doing to commodity prices. But what's the alternative if China wants to diversify its central bank's holdings? Sell U.S. bonds and buy euro-backed securities? The yen? Good luck with that.
Roberts said that China's attitude toward the U.S. reminds him of a famous quote from Winston Churchill about how democracy is the worst form of government except for all the others that have been tried.
"When thinking about China, you get the sense they believe that the United States is the worst market in the world -- except for everyone else," he said.
- The opinions expressed in this commentary are solely those of Paul R. La Monica. Other than Time Warner, the parent of CNNMoney.com, and Abbott Laboratories, La Monica does not own positions in any individual stocks.