Airlines post fattest profits in 10 years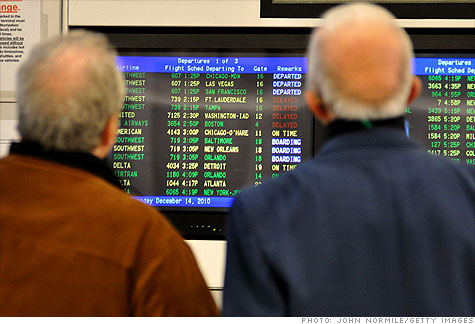 NEW YORK (CNNMoney.com) -- This year is shaping up to be the most profitable year for the airline industry in at least a decade. The bad news is that it costs a lot more to visit Mom.
Operating profits for airlines in the United States exceeded $7.1 billion in the first nine months of 2010, according to the most recent data from the U.S. Department of Transportation. That tally surpasses the industry's full-year profits going back to at least 1999, when airlines posted income of $6.8 billion over 12 months.
That's due in part to the fact that air fares are much more expensive this year. Fares jumped 13% since 2009, according to an average of domestic ticket prices compiled by the U.S. Bureau of Transportation Statistics. And that doesn't include new fees they've started hitting customers with the past couple years.
The industry's big haul is in stark contrast to 2008, when it lost more than $5.5 billion in the face of a double whammy: A recession that sent demand into a tailspin and fuel prices that spiked sky-high.
Carriers responded by cutting the number of flights they offered, slashing those with the fewest passengers. They packed the airplanes full so they wouldn't lose money on empty seats. And they added fees for services that once came for free, like checked baggage and in-flight food, to boost income.
"They were preparing for the worst," said Robert Pickels, airline industry expert and senior equity analyst for Manning & Napier. "If you're staring into the abyss like that, it really changes your behavior."
This survival strategy turned into a money-making boon when demand unexpectedly picked up this year, despite persistent high unemployment that had previously kept passengers at home.
"The baggage fees are a way to raise fares without publicizing the raised fares," Pickels said.
And they've been a huge success. The industry collected $2.1 billion in fees during the third quarter alone, according to the Bureau of Transportation Statistics. This includes more than $900 million in baggage fees and nearly $600 million in reservation change fees.
Also, the capacity cuts gave airlines more leverage to raise fares outright when demand shot back up. Consumers were left with fewer options, and the airlines were able to charge higher fares.
"[Airlines] have shown some discipline finally," said Harlan Platt, airline industry at Northeastern University's College of Business Administration in Boston. "They have not taken the planes they have parked and put them back into service. They're maintaining a limited supply of seats and that has enabled them to continue to charge higher fares."
Platt added that industry consolidation has helped to reduce competition. United acquired Continental to form United Continental Holdings (UAL) and Delta (DAL, Fortune 500) picked up Northwest Airlines.
Flyers may feel like they're getting squeezed by steep ticket price hikes -- but Pickels said that airfares are actually lower than they were before the terrorist attacks of Sept. 11, 2001, sent the industry into a tailspin.
"Even though everybody probably wants to complain that air fares are up, they're still below where they were in 2000," he said, noting that this year's fares are down 3.5% compared to a decade ago.