Carlos Ghosn: Around the world for Renault Nissan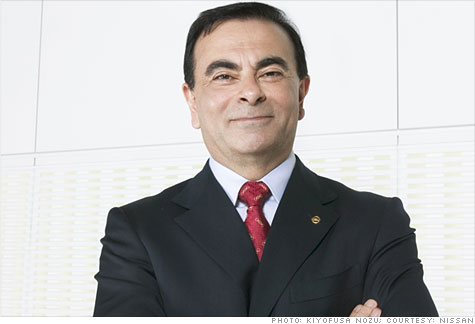 FORTUNE -- The world's most-traveled CEO touched down in New York just before Christmas, looking surprisingly rested despite a travel schedule that would shame most airline pilots.
Carlos Ghosn is CEO of Renault in Paris and Nissan in Tokyo and spends seven or eight days in each city every month. But the growing importance of developing markets has added more destinations to his itinerary.
Having just completed an analysis of his 2010 travel schedule, Ghosn discovered that he spent fully one-third of his time away from either office. He was visiting Brazil, Russia, India, China, the Middle East, and the U.S.
It is a nutty schedule but Ghosn has become accustomed to it. He has signed up for another four years at Renault, which will take him to the age of 60. He's producing results. Nissan's sales and profits are up sharply this year and Renault is holding its own in the tough European market.
Ghosn turned down a job offer that would have allowed him to stop accumulating frequent-flier miles. He confirmed the report that auto bailout czar Steven Rattner had offered him the job as chief executive officer of General Motors in early 2009 before the resignation of then-CEO Rick Wagoner.
Ghosn says he was flattered, but Renault-Nissan was still struggling in the aftermath of the financial crisis and he couldn't abandon it. "It was an easy decision," he says.
Ghosn is the archetype of the outsider CEO who is transforming the auto industry. After him came Mulally at Ford, Marchionne at Chrysler, and Whitaker and Akerson at General Motors.
He leaves the details to his chief operating officers and concentrates his attention on his two biggest strategic priorities: the development of zero-emission cars and low-cost cars for developing markets. He also wants to strengthen Nissan's luxury brand, Infiniti.
Ghosn is exhilarated by the reception that has been given the battery-powered Leaf, noting that it was voted European Car of the Year, as well as qualifying for the runoff for North American Car of the Year. 'We couldn't have asked for anything more," he said. He believes Leaf is three years ahead of the competition and is sticking by his prediction that Renault-Nissan will be soon be producing 500,00 electric cars a year by 2013, as he has promised..
The biggest surprise so far is the level of demand from customers who already own gas-electric hybrids. Ghosn attributes it to the intensity of interest in green vehicles by some of the car buying public.
For the next two to three years, he believes that auto industry research and development will continue to focus on green technologies. "Everything revolves around the environment" he says. Ghosn is bullish on fuel cells, which he sees moving to the fore in the next several years.
Size also counts when it comes to congestion and climate change, and Nissan is deep in development of a couple of minicars. Ghosn is pleased with the progress of a joint venture with Daimler to replace the Smart with a new model based on the Renault Twingo. And he is pushing ahead with work on a $2,500 car that can compete with the well-known Tata Nano car, due in 2012. Renault-Nissan is working in partnership with Indian motorcycle maker Bajaj, with the Indian partner designing and building the car and Renault-Nissan handling marketing and sales. Ghosn believes that such a bare-bones car can actually be profitable, though he admits, "So far, nobody has done this."
Living in Paris, Ghosn has a front row seat on the European financial crisis. He is optimistic about the outcome, which he says will require "a redefinition of the European Union." But he is less sanguine about a quick solution to the problem of overcapacity that has plagued the EU for years. Ghosn believes that car factories will be hollowed out over time, with their production slowly cut back to avoid the trauma of a full-scale plant closing. The process of rationalization, he adds, is being accelerated by the Chinese, who are buying distressed Western auto assets, as in Geely acquiring Volvo.
Ghosn is skipping the Detroit auto show this year. The Leaf will have a hard time beating out the hometown Chevrolet Volt for North American Car of the year. The announcement of the journalist vote on January 10th will probably find him at 35,000 feet, still in perpetual motion and with no ill effects from jet lag.