Motorola finally breaks up. What now?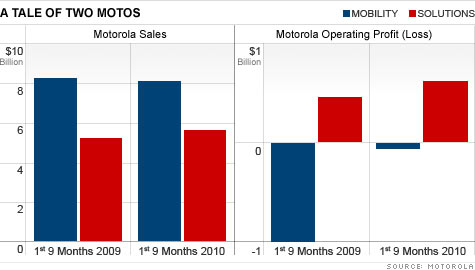 NEW YORK (CNNMoney) -- Hello Moto! Times two.
Motorola is no longer one company. A long-in-the-works breakup of the smartphone and telecom equipment maker finally took effect Tuesday morning -- probably to the delight of frustrated institutional shareholders like corporate agitator Carl Icahn.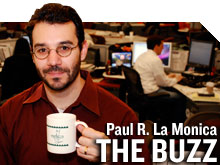 For several years, analysts and investors have argued that Motorola lacked focus and needed to split. So Motorola and its ticker symbol MOT now no longer exist.
Instead, we have Motorola Mobility -- which owns the smartphone and cable set-top box assets and trades under the symbol MMI -- and Motorola Solutions, which makes two-way radios and other public safety equipment and trades under the ticker MSI.
Unsurprisingly, Motorola Mobility (MMI) had a stronger debut. The stock surged over 9% Tuesday. The Mobility business is, after all, decidedly more sexy.
Motorola's phone business has enjoyed a remarkable turnaround thanks to the success of its Droid line of phones running on Google's (GOOG, Fortune 500) Android operating system.
Motorola Mobility is also expected to unveil a tablet at the Consumer Electronics Show in Las Vegas later this week. That device, rumored to be called Xoom, would compete with Apple's (AAPL, Fortune 500) iPad and a slew of other tablets also expected to make their debut at CES.
With that in mind, several Wall Street analysts initiated coverage of Motorola Mobility Tuesday with "buy" or "outperform" ratings. Most of those same analysts launched coverage of Motorola Solutions with "hold" or "market perform" ratings.
But shares of Motorola Solutions (MSI) were no slouch either. They were flat in early trading but rallied toward the end of the day to finish 6% higher.
Investors shouldn't get so mesmerized by the Droid that they lose sight of the fact that the less exciting Motorola Solutions may actually be the better (or at the very least, safer) long-term bet.
Sure, the Mobility business is bigger in terms of sales -- but it is still losing money. The set-top box unit eked out an operating profit in the first nine months of 2010, but it was not enough to overcome the losses in the smartphone division.
And even though Motorola has a hot product with the Droid now, history has shown how fickle consumers can be when it comes to gadgets. Motorola's Razr flip phone was all the rage a few years ago ... until it wasn't.
Motorola Solutions may not be exciting, it's growing at a steady clip. That's not likely to change since bar code scanners, RFID tags and two-way pagers aren't really subject to consumer tech fads.
Of course, a big risk going forward for Motorola Solutions is that cash-strapped local and state governments may pull back on spending for radios for their police forces.
But that may be already factored into the price of Motorola Solutions. And it's not as if governments are the only customers for that unit's products.
In fact, Motorola Solutions said in its third quarter report that sales to corporate customers rose 17% in the first three quarters of 2010, compared to an increase of just 3% in sales to government and public safety customers.
James McGlynn, manager of the Calvert Large Cap Value Fund, owned Motorola prior to its split and he said he's holding on to both stocks.
"Everybody knows Motorola for its handsets and smartphones. The Solutions business has been buried," he said. "This breakup has been a long time coming. There should be demand for both stocks because of the different growth dynamics."
McGlynn said it would not be surprising if more value-oriented investors bought the Solutions stock, while investors hungry for growth flocked to the Mobility shares.
He thinks that the more stable Motorola Solutions could even pay a dividend. Motorola suspended its dividend payment to shareholders in 2009.
So even though Motorola Mobility is likely to make a big splash in Sin City this week with new phones and tablets, don't underestimate sleepy Motorola Solutions. It may turn out to be the better Motorola for the long run.
-- The opinions expressed in this commentary are solely those of Paul R. La Monica. Other than Time Warner, the parent of CNNMoney, and Abbott Laboratories, La Monica does not own positions in any individual stocks.