GM vs. Ford: Which stock is the better buy?
NEW YORK (CNNMoney) -- Perhaps more iconic U.S. companies should consider government-sponsored bankruptcies.
Shares of General Motors (GM) are up about 15% since the new GM went public in mid-November. By way of comparison, the S&P 500 and top rival Ford Motor (F, Fortune 500) are both up about 8%.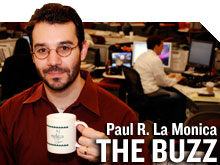 The slimmed down GM, which has sloughed off massive amounts of debt and rid itself of the struggling Saturn, Pontiac, Hummer and Saab brands, now has a market value of a little over $58 billion. That is slightly above the peak market value for the old GM about ten years ago.
What's more, GM, which filed for bankruptcy in June 2009 and emerged from Chapter 11 a month later, is now worth only $4 billion less than Ford. Does this make sense? Yes and no.
Now that Wall Street analysts have launched coverage of GM, unsurprisingly with mostly glowing reviews, it's easier to do some apples-to-apples comparisons of the two companies.
In GM's favor is the fact that it is still bigger than Ford in terms of global sales. Analysts are forecasting total revenue of $140 billion for GM versus $124 billion for Ford this year.
GM's sales growth is expected to be slightly higher: up 6% from 2010 for GM compared to a 4% estimated year-over-year increase for Ford.
GM also finished 2010 more strongly than Ford, with a sales jump in the U.S. of 16%, (excluding the discontinued brands.) Ford's December sales were up 8%, after backing out Volvo, which was sold to Chinese automaker Geely, and Mercury, which was discontinued.
So yes, GM has momentum on its side. That's expected to be on display at next week's Detroit Auto Show as well. The company plans to unveil its new Buick Verano among other vehicles at the show.
Kirk Ludtke, an analyst with CRT Capital Group in Stamford, Conn., said that if he had to pick one stock over the other, he'd take GM. He pointed to GM's lower debt load and stronger presence in China.
"There's more upside with GM," he said. "It has a better balance sheet and better position in emerging markets than Ford," Ludtke said.
That's undeniably true. Still, here's where things get tricky. Call me old school, but I have trouble wrapping my head around the notion that GM is now worth more than it ever was in its pre-bankruptcy history.
Also, GM's stock now trades at about 9.5 times 2011 earnings estimates, a small premium to Ford, which is valued at nearly 8.5 times Wall Street's profit forecasts.
Does GM, a company that needed a lifeline from Uncle Sam to survive, really deserve a higher valuation than Ford, the one member of Detroit's Big 3 that made it through the recession without a pit stop in bankruptcy court?
Ludtke thinks so. He points out that Ford did get a bailout, if you will, it just happened to be from private investors and not the government.
"Ford avoided bankruptcy because it failed first. It went to the capital markets in 2006 and raised a huge amount of financing," he said.
I don't think that's entirely fair though. There is a big difference between issuing bonds on Wall Street to deal with a cash crunch and a quasi-nationalization through a big government investment. Shouldn't Ford get more credit for avoiding Chapter 11?
Tim Denoyer, an analyst with Wolfe Trahan & Co., in New York thinks so. He said that customers may continue to view Ford more favorably than GM because Ford doesn't have the taint of a taxpayer bailout.
"The benefits of GM having a smaller debt load than Ford may be outweighed by the benefits Ford gets from increased market share and more favorable customer ratings," Denoyer said. He added that for the time being, Ford's pipeline of vehicles is better than GM's.
To be fair though, Ludtke and Denoyer said they like the prospects for Ford and GM -- so it's not like you should buy one and short the other. Denoyer said that Ford and GM will probably both get a boost from announcements at the Detroit Auto Show.
And David Whiston, an analyst with Morningstar in Chicago, said long-term investors shouldn't feel a need to choose one over the other.
"I like both stocks. There is going to be a huge auto recovery over the next few years that will benefit both of them," he said..
Nonetheless, Whiston said that his estimates for the fair value of Ford and GM shares are $26 and $46 a share, respectively. That's nearly 20% higher than GM's current price -- but more than 40% above Ford's.
-- The opinions expressed in this commentary are solely those of Paul R. La Monica. Other than Time Warner, the parent of CNNMoney, and Abbott Laboratories, La Monica does not own positions in any individual stocks.