Alan Mulally's high-voltage plan for the Ford Focus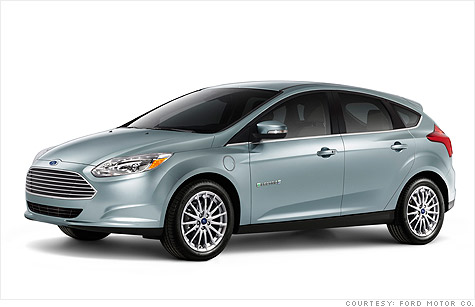 FORTUNE -- Give Alan Mulally lemons and he makes lemonade.
When he took over as CEO of Ford in 2006, he was faced with a handful of under-performing brands: Jaguar, Land Rover, Volvo, and Mercury. Rather than try to fix them, he declared them a distraction to his One Ford strategy and let them go.
Now he's doing the same thing with electric vehicles -- playing to Ford's strengths rather than following the pack.
Ford (F, Fortune 500) never got around to creating a purpose-built EV like Toyota's Prius, Nissan's Leaf, or General Motors' Volt that are supposed to be the sine qua non of success for alternative energy vehicles.
Instead of a one-off, Mulally is leveraging the production volume of Ford's global cars. He has taken a single car platform -- the C- compact structure that underpins the Focus in the U.S. and C-max in Europe -- and adapted it for three kinds of electric drive.
By integrating his EVs with an existing set of components, he saves money because he is leveraging his production volumes. The more cars you build off a single platform, the cheaper it is.
"We are going to use the scale of our global platform to create the most capability going forward," he told Fortune recently.
Making a profit on EVs is a bridge too far for most manufacturers, but not for Ford, says Mulally. The overall profitability of the Focus line acts as a moneymaking umbrella over the EV model variations.
The Focus-platform EV will come in three flavors, depending mostly on the size of the battery pack: gas-electric hybrid, plug-in hybrid, and full electric.
Ever the engineer, Mulally gave Fortune an insight into how he thinks about costs and capabilities of each variation, using the ballpark estimate of $700 to $1,100 per kilowatt hour.
The gas-electric hybrid, in which the batteries mostly give an assist to the gasoline engine, has a 60-pound pack that generates 1.4 kw/hr.
The plug-in hybrid, which has rechargeable batteries for limited all-electric motoring, carries a 240-pound pack that produces 7.5 kw/hr.
Finally, the all-electric Focus, which Ford launched on Friday, will haul around 700 pounds of batteries producing 23 kw/hr.
Put a pencil to those numbers and you understand why pure EVs are so expensive. The batteries alone will cost between $16,100 and $25,300.
Note the absence in Mulally's lineup of any range-assisted electrics, the clunky term GM (GM) uses to describe its Volt. Mulally figures his plug-in hybrid will have much the same capabilities but it will cost less because of far greater economies of scale. By 2012, he says, Ford will have some two million Focus-platform cars of all descriptions be in production while the number of Volts is still counted in the thousands. Better still, Ford can build all three EV varieties alongside traditional gas-powered cars on the same assembly line.
For a slow-moving, capital intensive industry like autos, it is moving surprisingly quickly towards electrification. Mulally figures that 15% to 25% of all new car sales will be some form of electric by 2020. Of those, only 5% will be all-electric. Some 70% will be hybrid gas-electric, and the remainder will be plug-in.
Despite its late start, Ford should find itself right in the mix. The all-electric Focus will be out late in 2011 and the two hybrids along in the same time frame.
Ford isn't saying much about the capabilities of the Focus electric to say that it will be capable of recharging in three-to-four hours using a 240-volt charging station -- half the time of a Nissan Leaf -- and will be competitive in range.
There is no guarantee that Mulally's strategy will be successful. But it is smart, logical, and makes use of Ford's demonstrated strengths. And Mulally's track record to date is impressive.
Thanks to him, Bill Ford's Ford is finally beginning to live up to its environmental promises.