Verizon iPhone: The big questions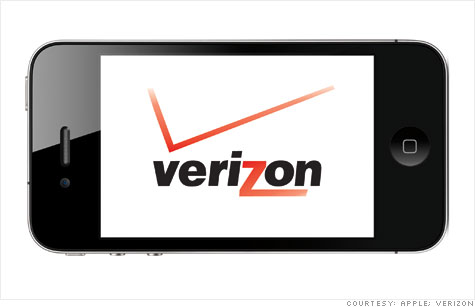 NEW YORK (CNNMoney) -- After years of speculation and rumor, the big day is here: The anxiously awaited unveiling of a Verizon iPhone is expected to take place Tuesday morning -- at 11 a.m. on 1/11/11, to be exact.
On Apple's (AAPL, Fortune 500) end, the iPhone has been a huge success. The company has sold more than 70 million iPhones since the device's launch in 2007. In its its fiscal fourth quarter it sold more than 14.1 million, up 91% from a year earlier.
But for AT&T (T, Fortune 500) -- currently the iPhone's sole U.S. carrier -- the exclusive contract has come at a price. Customers have complained in droves about awful service on their iPhones, culminating in scathing Consumer Reports piece in December that labeled AT&T the worst phone carrier out there.
That brings us to our first question ahead of Tuesday's event.
Will Verizon's network succeed for the iPhone where AT&T's has failed?
It's an open question, and after years of suffering on its own through iPhone users' data demands, AT&T would love to see another network stagger.
"Verizon's network hasn't been battle-tested yet, so you don't know if they can handle the data load or not," AT&T spokesman Larry Solomon told Fortune recently.
But all the wireless phone carriers -- including both Verizon and AT&T -- have been spending billions to build our their capacity. Verizon has had lots of time to warm up for this challenge.
Will the iPhone support Verizon's LTE 4G network, or its CDMA 3G network?
Verizon's new 4G network is just starting its rollout. If the iPhone has to rely on the older CDMA network, that carries some significant drawbacks. Most glaringly: customers wouldn't be able to chat on the phone and surf the Web simultaneously, as they can on AT&T's iPhone.

Data hounds are waiting eagerly for the details.
Will Verizon let iPhone customers sign up for the unlimited data plan?
Back in June, AT&T announced new 3G pricing plans that made iPhone and iPad bills less expensive for most customers, but also ended the carrier's unlimited data option. New buyers can pay either $15 for 200 MB a month or $25 for 2 GB, replacing the carrier's previous $30 all-you-can-download plan.
Verizon currently offers its smartphone customers unlimited data for $30 a month. Will it extend that plan to the iPhone? Stay tuned.
When will the Verizon iPhone be available to customers?
By the end of January, if a Monday Wall Street Journal article and a June piece from Bloomberg are correct.
How much will the Verizon iPhone cost? And will the company offer any incentives to AT&T iPhone customers?
With a two-year AT&T contract, the iPhone 4 costs $199 for a 16 GB device and $299 for the 32 GB version. Verizon's pricing is expected to be the same.
With such a high-demand product, Verizon probably won't feel the need to offer any incentives for AT&T customers looking to switch over. Those who make the jump will have to pay a $325 penalty for termination-of-contract, and they could be subject to other fees.
Will a Verizon iPhone kill AT&T?
Most of the conventional wisdom out there says yes, but many industry analysts say no. The company has locked in millions of customers who upgraded over the past few months.
Furthermore, while lots of customers complain about AT&T, relatively few are likely to follow through with the hassle of switching. Yankee Group estimates that 2.5 million AT&T iPhone customers will defect to Verizon in 2011 -- which represents just 3% of AT&T's base of 93 million customers.
Will Steve Jobs be at the Verizon unveiling? Will he have a white iPhone in his hand!?!
The bright-red invitation CNNMoney received for Tuesday's event lists only Verizon president and COO Lowell McAdam as a presenter. But it's unlikely that Apple CEO Steve Jobs would miss an iPhone event. AllThingsD's sources say a Jobs appearance "isn't 100 percent assured," but it's "likely."
The white iPhone -- the tech industry's Godot -- has reportedly been thwarted by manufacturing issues. A few news outlets have reported on pale iPhones spotted in the wild, but Apple has said not to expect the fabled white device until spring 2011.