Oil's future is in deepwater drilling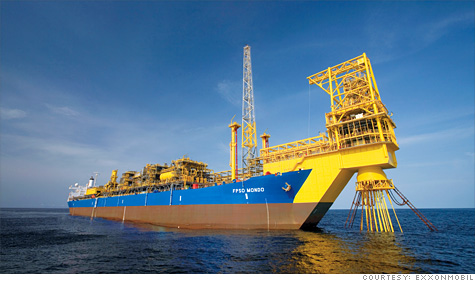 NEW YORK (CNNMoney) -- Despite the current slow going in the Gulf of Mexico, worldwide deepwater oil production is surging, driven by high prices, new technology, and dwindling prospects on land.
Oil produced from deepwater -- generally considered depths over 500 feet -- has doubled in the last five years to 5 million barrels a day, according to numbers from IHS Cambridge Energy Research Associates. By 2020 it's expected to double yet again, making up 10% of total world oil supply.
Moreover, in 2008 over half of all new oil and gas discoveries came from deepwater fields.
"There's a huge amount of work out there," said Matt Pickard, consulting manager at Quest Offshore Resources, a deepwater research firm. "It's really picking up steam."
The surge in activity is specific to deep water drilling. Oil production in shallow water is actually expected to decline to 14 million barrels a day in 2015 from 18 million barrels a day in 2010, according to numbers provided by the Energy Policy Research Foundation.
Leading the deepwater development are projects in the U.S. portion of the Gulf of Mexico. Despite an absence of new permits and only the recent resumption of drilling on wells already started before the BP blowout, the region is currently producing over 1.6 million barrels of oil a day, more than anywhere else in the world.
Brazil runs a close second. The country produces nearly the same amount as the United States and is busy developing one of the biggest new discoveries in recent years -- its huge, ultra deep Tupi field.
West Africa is another hot spot. Angola produces about 1.2 million barrels a day from deepwater fields, and Nigeria another 600,000, according to numbers from the Energy Policy Research Foundation. At just under 400,000 barrels a day, Norway is another big producer, and smaller amounts are coming from India, Malaysia and Australia.
Technology is one reason deepwater drilling has taken off. Prior to 1990 hardly any oil was produced in deepwater -- most came from shallow water wells where drilling and production platforms could stand on stilts anchored to the sea floor.
That changed largely thanks to the advent of GPS technology, which allows drilling rigs and ships to stay precisely positioned over a well using satellite navigation and micro-thrusters.
Rigs can now stay in an exact position for months on end, which is how long it takes to lay the miles and miles of pipes necessary to tap deepwater resources.
All this of course costs money, and many of today's deepwater projects were not economical pre-2004, when oil traded in the $20-$30 range.
Now, some of the more expensive deepwater projects need oil prices of $75 to $85 a barrel to be economically viable, said Pickard. Some older oil fields, such as those found in the Middle East, can be economical with oil prices around $5 or $10 a barrel.
Necessity is perhaps the biggest reason these deepwater fields are being developed as big onshore oil fields are getting harder to find. The big undeveloped ones are often in OPEC countries or other places that restrict or outright ban the world's international oil firms -- companies like Exxon Mobil (XOM, Fortune 500), Royal Dutch Shell (RDSA) and BP (BP).
"It's getting harder and harder to get access to these lands," said Leta Smith, director of oil and gas supply at Cambridge Energy Research Associates. "These big companies want big discoveries, and big discoveries are getting harder to find onshore."