A taco, a Diet Pepsi and a Chevy Cruze, please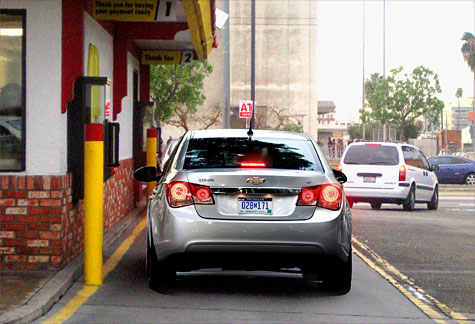 FORTUNE -- American teenagers in the 1960s and 1970s listened to Beach Boys tunes on their transistor radios. In those days few cars could compete with a Chevrolet Camaro or Corvette, in terms of cool.
To reverse the steep market-share losses to Japanese producers that helped push General Motors (GM) into bankruptcy, its most important brand, Chevrolet, is working to win back some mojo with the young. Students at Stanford, University of Southern California and other west coast universities have been signing up for free rides -- not test drives -- in several Chevrolet models, including the Cruze, Camaro, Equinox and Malibu .
In return, GM treats them to $8 worth of fast food at McDonald's (MCD, Fortune 500) Taco Bell (YUM, Fortune 500) or fast food restaurant of their choice. GM representatives lend them a Flip Video camera, ask them to compose a song about Chevy and post their adventures, again, with a Chevy chaperone behind the wheel, on YouTube.
GM hopes the light-hearted, inexpensive videos from its "Drive Through Finals" promotion goes viral. The idea is to stimulate buzz among car buyers who mostly know Honda Civics and Toyota Corollas so they can get a taste of GM's new compact car.
"These young people actually are too young for test drives,'' said Terry Rhadigan, a GM spokesman. Company policy requires sets the age limit at 21. "This is a way for us, at a reasonable cost, to introduce them to our products.''
As a result of GM's bankruptcy in mid-2009, the automaker's eight main brands were reduced to four. Of those remaining, Chevrolet is aimed the most at budget-minded younger drivers in the early years of career and income. College students typically can't buy new cars, but they are influential in deciding for a wider audience -- perhaps their parents -- what's hot (and not).
GM is trying to win converts as well as capture buyers that once shopped their discontinued brands, Pontiac, Hummer, Saab and Saturn. Still GM's overall share of the U.S. market declined in 2010 to 19.1 percent from 19.8 percent a year earlier. When the Beach Boys were big, GM owned close to half the automotive market in the U.S.
Holding on to 19.1 percent, never mind increasing that share, will be difficult this year, though most analysts are forecasting a stronger industry. Toyota is back on its feet with a new Prius and other models after giving up 1.8 points of share last year due to concerns about safety and quality. Volkswagen is pushing to gain share as never before with a new assembly plant in Chattanooga, Tennessee that will manufacture a new midsize family sedan.
GM's new Chevrolet Cruze is off to a fast start. It sold 10,865 copies in December, compared to 8,672 Chevrolet Cobalts, the car it replaces, during the same month a year ago. Toyota's Corolla sold more than 22,000 during the same period, while Honda's Civic sold more than 28,000.
"Gaining the attention of the young isn't easy,'' said Don Esmond, a Toyota sales executive. Toyota's Scion brand, which boasts the youngest median buying age in the industry at 37, eschews most traditional advertising. Instead Scion sponsors youth-oriented events such as concerts and the Halloween party at Knott's Berry Farm, near Los Angeles.
GM doesn't have evidence yet proving that its college promotion is helping Cruze sales. But for the cost of gas and a few tacos, the automaker intends to keep at it.