Treasuries slide as eurozone debt jitters ease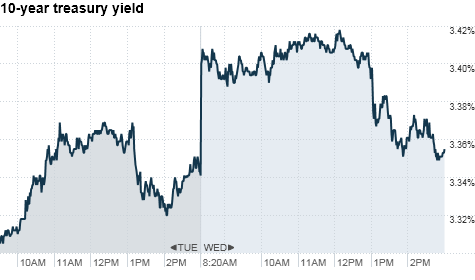 NEW YORK (CNNMoney) -- Treasury prices fell Wednesday for the second day in a row as U.S. stocks rallied and investors' concern over eurozone debt issues eased.
Prices had been rising on the back of weaker-than-expected jobs data, but after Japan said it would support European debt with a bond purchase early Tuesday, the bond market changed direction.
Investors tend to move into the perceived safe-haven of U.S. government debt in times of economic uncertainty, but as investor confidence grows, they move into higher-return assets, like stocks.
Investors have been particularly worried about the how the European debt crisis will play out in 2011, so any sign that troubled nations will be able to sell their debt is a boost to sentiment.
"The Treasury market is definitely a little bit weaker because of better news coming out of Europe," said William Larkin, portfolio manager at Cabot Money Management.
Portugal was able to sell $1.249 billion worth of debt at auction, sending European stocks higher in afternoon trade. U.S. stocks piggybacked on the rally.
"It is good that they got the deal done," said Larkin. At the same time, that doesn't mean eurozone worries are over. "We have taken care of this one individual capital need, but what about the next ten?" European debt concerns have made it hard for investors to plan for the long term because they can't "forecast clearly," he said.
On Wednesday, the yield on the benchmark 10-year note ticked up to 3.37% from 3.34% on Tuesday. The yield on the 30-year bond rose to 4.53%, while the 5-year note rose to 1.98% and the 2-year note edged up very slightly to 0.61%. Prices and yields move in opposite directions.
Government debt on the selling block: Bond traders were also closely watching three government debt auctions totaling $66 billion this week.
Tuesday, the government sold $32 billion in three-year notes. The bid-to-cover ratio for the auction was 3.06, meaning that there was almost $98 billion worth of demand for the $32 billion worth of debt sold.
Larkin was not surprised that Tuesday's 3-year auction met with strong demand. Longer-term bonds are more difficult to sell, because the long-term outlook is more murky. That is why the auction schedule "is heavily weighted to the short end," said Larkin. Uncle Sam knows there is "much stronger demand for defensive shorter positions."
Wednesday's $21 billion auction of 10-year notes was also met with strong demand. The bid-to-cover ratio of 3.3 means that there was more than $69 billion worth of demand for the $21 billion worth of debt. After the auction results were released afternoon trade, Treasury prices pulled off earlier session lows.
The final of the three debt auctions follows on Thursday with $13 billion in 30-year bonds.