Stocks climb to 2-year highs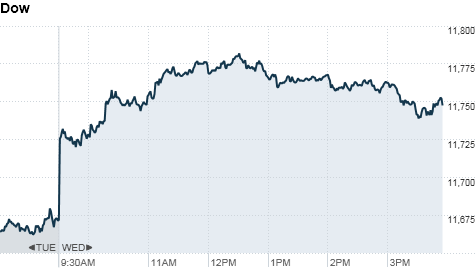 NEW YORK (CNNMoney) -- Financial shares sparked a broad rally Wednesday that sent all three major indexes to fresh multi-year highs.
The Dow Jones industrial average (INDU) added 83 points, or 0.7% to close at 11,755.44 -- its highest level since September 2008.
JPMorgan Chase (JPM, Fortune 500) was the Dow's biggest gainer, jumping more than 2%, followed by Bank of America (BAC, Fortune 500), American Express (AXP, Fortune 500) and Boeing (BA, Fortune 500).
Bank shares also got a lift Wednesday from Wells Fargo's upgraded outlook for the sector. "It's a group that lagged pretty badly in the fall, and they're still playing catch-up," said Timothy Ghriskey, CIO at Solaris Asset Management.
The S&P 500 (SPX) rose 11 points, or 0.9%, closing at 1,285.96 -- its highest level since August 2008.
The Nasdaq (COMP) gained 20 points, or 0.8%, ending the day at 2,737.33 -- a three-year high.
Europe continues to be a wild card as 2011 gets underway, so investors are looking for any signs that those issues are under control.
A rally in overseas markets spilled over to U.S. stocks early in the session as a solid auction of Portuguese bonds helped ease eurozone jitters.
"The bond offering went relatively decently for Portugal [and] that relieved the fears about a bailout." said John Wilson, Chief technical strategist at Morgan Keegan.
World markets: European stocks rose after Portugal's successful auction of government debt. The auction came amid recent speculation that Portugal might be the next eurozone country to need a bailout.
"They sold $1.249 billion at the auction, so basically money is costly but they are selling it, so that's a relief for the market," said Peter Cardillo, chief market economist at Avalon Partners.. "Tomorrow is Spain's turn, and that auction shouldn't be a problem either, so the market is going to be moving higher on that as well."
Optimism about Thursday's upcoming bond auction in Spain lifted U.S.-listed shares of Spanish banking giant Banco Santander (STD), whose stock gained nearly 11%. Shares of rival bank Banco Bilbao Vizcaya Argentaria (BBVA) also rose about 11%.
The DAX in Germany ended the day up 1.8%, France's CAC 40 closed 2.2% higher, and Britain's FTSE 100 added 0.6%.
Asian markets also ended higher. The Shanghai Composite rose 0.6%, the Hang Seng in Hong Kong climbed 1.5% and Japan's Nikkei was barely above breakeven.
Meanwhile, Bank of China is allowing customers in the United States to trade its currency, the yuan, for the first time.
Economy: Treasury Secretary Timothy Geithner said China's policies are a growing source of concern in the United States and other countries. In a speech at Johns Hopkins, Geithner also said that China's undervalued currency and dependence on exports must be addressed. His remarks come ahead of next week's U.S. visit by Chinese President Hu Jintao.
The Federal Reserve released its snapshot of economic activity for January Wednesday afternoon.
Known as the Beige Book, the report showed that the economy continued to grow moderately across the nation. Despite the lagging housing market, the Fed reported bright spots in manufacturing, retail, and non financial services sectors.
The December Treasury budget was also released Wednesday afternoon. The budget shortfall eased to $80 billion in December from $91.4 billion in the previous month.
Companies: AIG (AIG, Fortune 500) announced Wednesday that it has agreed to sell its Taiwan unit, Nan Shan Life Insurance Company, for $2.16 billion in cash. Shares of the insurer closed down 1.1%.
Shares of ITT (ITT, Fortune 500) ended the day up 16% after the manufacturing company announced plans to split into three publicly traded companies by spinning off its water-related businesses and defense division.
A number of big names are hovering around 52-week highs Wednesday, including Exxon Mobil Corp. (XOM, Fortune 500), Chevron Corp. (CVX, Fortune 500), United Technologies Corp. (UTX, Fortune 500), and CNNMoney parent company Time Warner Inc. (TWX, Fortune 500)
Currencies and commodities: The dollar lost ground against the euro and the British pound, but gained slightly against the Japanese yen.
Oil for February delivery settled up 75 cents to $91.86 a barrel.
Gold for February ended the day up $1.50 to $1,385.80 an ounce.
Corn futures rose 3% Wednesday after the U.S. Department of Agriculture predicted corn supplies would fall to their lowest level since 1996.
The report is the latest sign of stretched food supplies at a time when growth in developing countries is fueling seemingly insatiable demand for agricultural goods.
Bonds: The price on the benchmark 10-year U.S. Treasury fell, pushing the yield up to 3.35% from 3.34% late Tuesday.
Wednesday's $21 billion auction of 10-year notes was met with strong demand.
The bid-to-cover ratio of 3.3 means that there was more than $69 billion worth of demand for the $21 billion worth of debt.