Bulls beat the bears down on the farm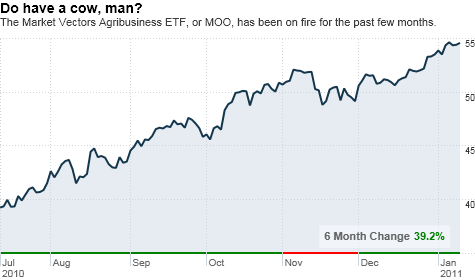 Joe Donohue was on Wall Street for over 20 years. He ran a successful hedge fund and now manages private accounts with a long/short strategy. He is also the author of the UpsideTrader blog.
Some still argue (mostly the perma bears) that the entire move for the S&P 500 from 666 in March 2009 to about 1,275 now is merely a cyclical rally within a secular bear market.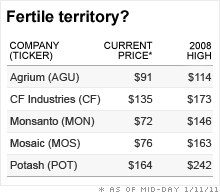 The bulls have taken the other side of the trade, opining that a clear and obvious bottom was put in during those apocalyptic days nearly two years ago. History and the beauty of hindsight will tell us who was right.
One sector that has been in its own undeniable bull market is the agriculture or fertilizer space. The Market Vectors Agribusiness ETF, or MOO (MOO), continues to hit 52-week highs and trades around $55. You could have gone silly long at $35 just six short months ago.
Some saw the move coming. Most didn't. MOO hit a high in the spring of 2008, but the dollar was also at a decade-long low. The greenback is not very far from those low levels right now. Much depends on the buck.
Commodities of all types have been running like scalded monkeys. Hard and soft commodities, and shiny and not so shiny metals are on a tear. The Federal Reserve has enabled this trade to a great degree (thanks to quantitative easing) and has been a willing or unwilling co-conspirator depending on how you want to spin it.
Still, it appears that we are in the midst of a commodity super cycle, especially as the emerging markets continue to build out. Cotton is up 80% in the last year. Sugar, wheat, copper and silver have squeezed shorts and have made longs very happy along the way.
Old MacDonald had a takeover. Buyout talk has also led to strength in the sector. BHP Billiton (BHP) made an unsolicited bid for Potash (POT), but it was rebuffed by Potash as grossly inadequate. The deal also ran into some challenging Canadian anti-trust headwinds. The offer was rescinded, but Potash shares have since moved another 15%.
Mosaic (MOS, Fortune 500) has been bandied about as well and CF Industries (CF) is also on the takeout short list. Let's not forget Agrium (AGU) either.
I don't chase stocks, but it's a fact that momentum stocks have a tendency to stay strong and weakness gets punished in this market. I am long Mosaic and Potash and will be a buyer of more on any dips.
The charts on almost all time frames say the group is locked and loaded for higher levels. As the table to the top left shows, most of the agri-stocks are also still trading well below their 2008 highs.
Call me silly. But it looks like there is plenty of room to run.