Obama, Hu meet American CEOs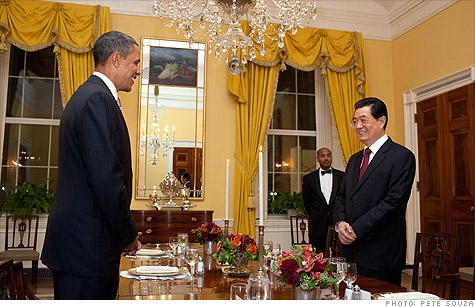 NEW YORK (CNNMoney) -- Chinese President Hu Jintao, in his White House visit Wednesday, met not only with President Obama but also with a group of heavy-hitting American business leaders.
Fourteen American executives attended a meeting hosted by the two leaders, and were joined by four of their Chinese counterparts.
It wasn't specified what was discussed behind closed doors, but exports and investment in the United States were believed to have been key topics. Before the meeting, the Obama administration announced $45 billion in new contracts that it said will increase U.S. exports to China and support an estimated 235,000 American jobs.
"What is needed, I believe, is a spirit of cooperation that is also friendly competition," Obama said at a news conference after the meeting.
But Obama also said the competition must be fair.
"I did also stress to President Hu that there has to be a level playing field for American companies competing in China," Obama said. "Trade has to be fair."
Fairness has been a top concern for American companies as they seek to capture market share in the robust Chinese economy. Obama specifically mentioned intellectual property rights and Chinese currency policy, two hot-button issues.
"What I've said to President Hu ... is not only will U.S. businesses be able to export more to China if we have a market-based currency, but it will also be good for China and President Hu's agenda of expanding domestic demand," Obama said about the dollar-yuan concerns.
For the CEOs who got a seat at the table, it was a rare chance to witness the high-pressure diplomacy of an official state visit.
Banking CEOs Lloyd Blankfein of Goldman Sachs (GS, Fortune 500) and John Thornton of HSBC (HBC) were in attendance.
Tech companies were also well represented, with Paul Otellini of Intel (INTC, Fortune 500), Greg Brown of Motorola (MSI), and Microsoft's (MSFT, Fortune 500) Steve Ballmer on the invite list.
Also getting an invite were Dow component company CEOs Jeff Immelt of GE (GE, Fortune 500), Muhtar Kent of Coca-Cola (KO, Fortune 500), Ellen Kullman of Dupont (DD, Fortune 500) and Boeing's (BA, Fortune 500) Jim McNerney.
John Chen of Sybase (SY), Aris Candris of Westinghouse Electric, Andrew Liveris of Dow (DOW, Fortune 500), David Rubenstein of private equity firm Carlyle Group and Greg Page of Cargill round out the list of American CEOs.
Liu Chuanzhi of Lenovo, Lou Jiwei of China Investment Corporation, Lu Guanqiu of Wanxiang Group and Haier's Zhang Ruimin are the four Chinese executives who joined the talks.
American automakers were curiously absent from the invite list, even as they make a push to capture market share in China's booming auto industry.
The meeting comes as Obama's relationship with the business community appears to be thawing. For example, on Tuesday, Obama signed an executive order intended to "strike the right balance" between health, safety and environmental regulations and economic growth.