Why China matters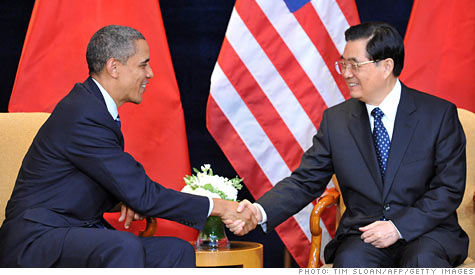 NEW YORK (CNNMoney) -- If China and the United States had Facebook profiles, their relationship statuses would say "it's complicated."
With both a creditor-debtor and seller-buyer relationship, the two world superpowers are strange bedfellows to say the least.
On one hand, they're business partners with a vested interest in each other's success. On the other, they're fierce competitors with some inherent misunderstandings. Commerce Secretary Gary Locke recently called the connection "perhaps the most important bilateral trading relationship in the world."
That's why all eyes are on the meeting between Chinese President Hu Jintao and President Obama, kicking off Wednesday.
China's many roles
Buyer: China is currently the third top buyer of U.S. exports, lagging only behind neighbors Canada and Mexico.
But with the world's largest population -- 1.3 billion people -- and a rapidly emerging middle class buying everything from groceries to cars, it is also the fastest growing export market in the world.
In the past 20 years, U.S. exports to China have multiplied 12 times over. That presents American businesses with an alluring opportunity that's hard to pass up, said Erin Ennis, vice president of the US-China Business Council.
"The biggest lure of China is the elusive goal of one billion consumers," she said. "Many business owners think, 'if I could sell just one product to every person in China, think how well my business would do.'"
And more American exports also mean more jobs at home, which is exactly why President Obama is pushing for the U.S. to double its exports in the next five years.
Lender: China also has high stakes in the U.S. economy, as the country's largest lender.
Its central bank holds $896 billion in Treasury bonds, accounting for about a quarter of all foreign investment in the U.S. government. American citizens pay interest on that debt, and the stronger the greenback is, the better China's investment pays off.
Meanwhile, the U.S. government uses that money to fund its debt, and arguably, needs that loan from China to get itself out of its latest economic hole.
Leader: Following the recession, China's rapidly growing economy has been the envy of Western nations, hurling ahead at a speed of 9.6% last year. (The U.S. continues to chug along at a snail's pace of 2.6%).
Last year, it surpassed Japan as the world's second largest economy. If American businesses were hesitant to invest in China before, they're much less so now, said Thomas Stiebel, a partner with international law firm Quarles and Brady.
"There was always some skepticism about China. No one really believed it, that China is developing into this economic powerhouse," he said. "But with China coming through the recession as strong as it did, there was this awakening that China is for real."
The U.S. economy is still three times larger than China's, but at its breakneck speed, some economists say China is on a path to surpassing the U.S. as soon as 2025.
While that may put American bragging rights at stake, that doesn't mean the U.S. loses ground.
"Our two economies are so intertwined," Ennis said. "It's in both of our interest, that both countries prosper."
Pointing fingers
Despite their connection, China and the U.S. don't always see eye-to-eye, and tensions are particularly high leading up to this week's meeting.
Over the last year, American leaders have outright demanded China allow its currency to float freely against the U.S. dollar -- complaining that the artificially low yuan gives Chinese businesses an unfair advantage in international trade.
Senators renewed those calls Monday, introducing legislation that would impose harsh penalties on nations that manipulate their currencies.
American businesses have also complained, blaming Chinese officials for failing to enforce intellectual property laws and offering large subsidies that give an unfair advantage to Chinese exporters.
In written responses to questions from the Wall Street Journal and Washington Post published Monday, Hu was quick to defend the yuan, but also focused on strengthening ties with the U.S.
"We both stand to gain from a sound China-U.S. relationship, and lose from confrontation," he wrote.
But those tiffs are hardly irreconcilable differences, as both countries admit they need each other. That may be why Americans are more likely to see hand shakes at photo ops this week, rather than pointing fingers.