The creative spark behind the Viking oven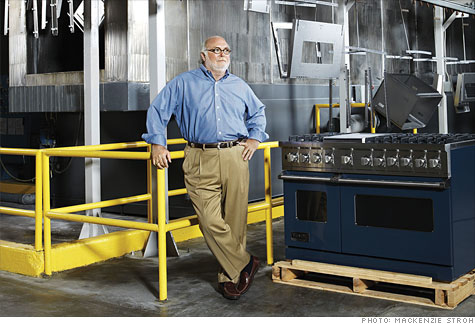 FORTUNE -- Fred Carl Jr., the founder of Viking Range, talks about how a simple kitchen remodeling led him to build an appliance empire.
I'm a fourth-generation builder, and in 1980 my wife, Margaret, and I were designing our kitchen for a new house. Margaret wanted a heavy-duty gas range like her mother had -- a 1947 Chambers range -- but they didn't make them anymore. The closest to it was a commercial oven, but they weren't made for homes.
So I decided to make the oven myself, designing it on nights and weekends. I went through the production lines of all the major commercial manufacturers, learning about specifications and performance. It would totally embarrass Margaret when I'd ask if I could go look at a restaurant's kitchen. I found out that commercial-range ovens don't broil and that they give off heat like a furnace.
In 1983, I called every major manufacturer in the country, explaining what I had in mind, and 100% of them told me I was crazy. It was an exasperating experience. No one wanted to make a product like that.
Since no one was doing it, I thought, This is a business. So I asked if they'd make 10 to 12 ovens, with the prospect of making 100 more if the product took off, and they still laughed.
Two years later U.S. Range in Gardena, Calif., agreed to make it on a limited basis. I don't cook, but I know what appliances are supposed to do. I came up with the name because you think of Vikings as being tough, substantial, and enduring. I started with my own money and credit cards, and brought in partners from my hometown of Greenwood, Miss. Folks also co-signed a $325,000 bank note with me. I'm not sure I'd have done Viking if I hadn't had a support network.
In January 1987 we shipped the first range out of California, and it was a wild ride from then on. The oven was an instant success, creating an immediate production problem. We were learning manufacturing on the fly and had to build a sales and marketing team. I tapered off my construction business and, by 1989, moved production to Greenwood and went into the manufacturing business.
The main challenge back then was keeping up the pace of production and signing up dealers. I also spent a lot of time identifying and designing new products. We added ventilation hoods, built-in ovens, cooktops, range tops, built-in refrigeration. I wanted to do a full kitchen that matched.
With all this, Margaret had to wait in line to get her stove. We didn't put one in until 1991, when we designed and built another house with a Viking kitchen, where we live today.