Groupon regret? Unload those daily deals on Lifesta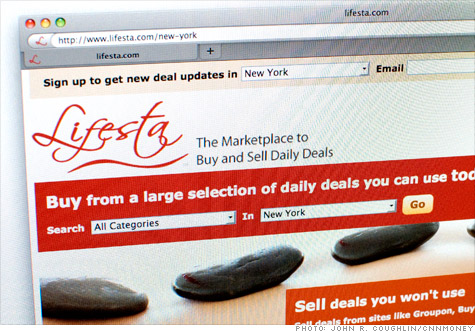 NEW YORK (CNNMoney) -- Sale sites like Gilt Groupe, Groupon and LivingSocial have turned the work day into a buying bonanza, giving people deep discounts on everything from romantic dinners to helicopter rides. But all those impulse purchases can leave online shoppers with quite a hangover.
Hate those wine-tasting classes? Don't need another nine yoga sessions at the studio on the other side of town?
You can't return them, so sell them on Lifesta.
Yael Gavish, co-founder of the site, says she saw a need for a forum dedicated to the aftermarket. She had a friend visiting her in New York, and they were excited to go to dinner with a Groupon certificate. But when the friend arrived, they discovered the restaurant was closed for renovations.
Her friend was out the money, but an idea was born.
Now users can hawk local vouchers if they miss their opportunity to use them -- or sell off those romantic dates after an untimely break up. Since the site launched last July, tens of thousands of dollars worth of vouchers have been uploaded and sold, according to the company.
"When people put up romantic cruises, you wonder if there is a break up there," she said.
It wasn't quite as dramatic for Polly Chung. She just bought five vouchers for 50% off gelato in New York City, but now that it's January, her taste for frozen dessert has gone cold. So Chung posted her unused coupons on Lifesta, "I mean I can't eat gelato twice a week just to use it before it expires," she explained.
Sellers set the price -- although most stick at or near the cost of the original deal -- and Lifesta charges 99 cents for the listing plus 8% of the sale price. And unlike on Groupon and other social sites, these deals are not limited-time offers. They stay up on Lifesta until they sell -- or expire.
Buyers can search for deals based on city or category, such as food and drink, or tours and attractions. And payments are facilitated through Amazon, so they don't have to turn over their financial information either.
That worked well for Yoav Zeevi who says he has no interest in buying on Groupon and other sites, because he doesn't want to race against the clock to grab discounts before they're gone.
Instead, he bought a voucher on Lifesta for dinner at a tapas restaurant in San Francisco and treated his wife to a romantic night on the town.
"That dinner was excellent," he said.