GM's management merry-go-round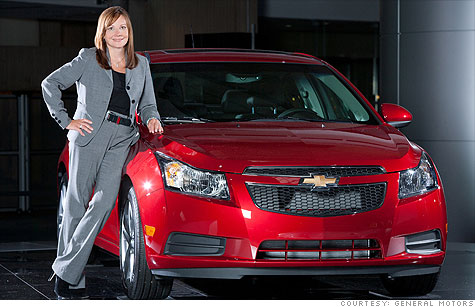 FORTUNE -- General Motors Co. finally talked head-on about the lull in new-vehicle development during the North American International Auto Show earlier this month. Dan Akerson, GM's CEO, blamed reduced development spending during 2009, when GM filed for bankruptcy and was reorganized.
A week later GM (GM) has kicked its vice chairman in charge of vehicle development upstairs, replacing Tom Stephens with a new executive in charge of developing future models. She is Mary Barra, 49, a GM engineer with manufacturing expertise who most recently was in charge of human resources. She will oversee the company's 11 worldwide brands.
The naming of Barra comes two days after the replacement of Chris Preuss, the executive in charge of OnStar, GM's telematics and infotainment unit. GM this week also promoted the head of its Chevrolet division, Chris Perry, to head of U.S. marketing, replacing Joel Ewanick, who was recruited from Hyundai Motor to run U.S. marketing. Buick-GMC, which had been run by one executive, was split into two with one in charge of Buick and the other in charge of GMC.
Stephens, who had been appointed to his previous job in 2009, was named to the newly-created post of global chief technology officer. His role, according to analyst Jim Hall of 2953 Analytics, will be to make sure that GM's global vehicle architectures "are optimized on a regional basis." In other words, Hall said, to ensure that GM's basic midsize car, for example, is adapted specifically and accurately to various markets around the world.
Eighteen months after GM's emergence from bankruptcy and four CEOs later, management of the number-one automaker remains characterized by turnover. "It's driving GM's Chinese joint-venture partners crazy,'' said a supplier to the automaker.
Developing a new vehicle can take two to three years. Akerson believes the product delays are related to financial weakness in 2009 and should be remedied in another year or so. But turmoil among senior executives also could be contributing to the delay in creating new vehicles to replace aging models and to contend against offerings from competitors.
With fewer new products GM may expect to lose market share to more free-spending rivals. The company's share dropped in 2010; and J.D. Power expects it to drop again this year.
Wall Street analysts measure an automaker's proportion of all-new or substantially renewed models as a way to forecast which companies have an advantage attracting consumers. In 2007 GM's lineup in the U.S. was 40 percent new or substantially renewed; that figure fell to 14 percent through 2010 and could fall to 12 percent this year, according to Credit Suisse.
But GM will boost its R&D annual spend this year to $7 billion from $5 billion, according to Akerson. Consequently, Credit Suisse estimates the percentage of all-or-mostly new models could rise to 30% in 2012 and 26% in 2013.
GM showed two new cars at the auto show in Detroit, the Buick Verano compact car, about the same size as a Chevrolet Cruze and based on the same architecture. GM also showed an even smaller Chevrolet Sonic, meant to compete against Ford's Fiesta, Honda's Fit and other in the so-called mini-car class. Now Barra, Akerson and the entire company have to hope those new models are appealing enough to tide consumers over until they can truly put their own stamp on the cars coming out of the new GM.