Earnings onslaught coming - but Wall Street may not care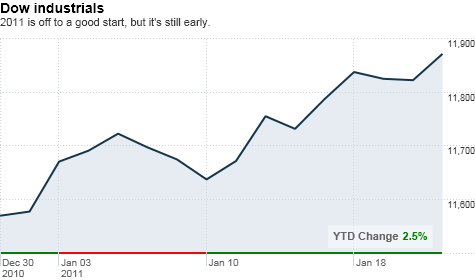 NEW YORK (CNNMoney.com) -- Nearly half of the companies in the Dow Jones industrial average are scheduled to release quarterly reports this week, and expectations are very high. But don't be surprised if stocks have a muted reaction to stronger-than-anticipated profits and sales.
The stock market has grown "complacent," traders say, and it's going to take more than blockbuster earnings and strong economic data to move it higher. What that could be, though, no one was certain.
At the same time, many analysts also believe the market has run out of steam and needs to "rest" for a while. After climbing steadily since the start of December, stocks hit some resistance last week.
The Dow added 1.2%, while the S&P 500 ended last week flat. The Nasdaq, which is looking particularly tired, fell 1.7% over the last five trading days.
"There's a level of complacency in the market, and some of the contrary indicators suggest the market is overbought," said Nick Kalivas, vice president of financial research at MF Global. "Even if the news next week is favorable, it might not translate to higher prices."
The weakness in tech last week -- which came despite blowout quarterly reports from IBM (IBM, Fortune 500), Apple (AAPL, Fortune 500) and Google (GOOG, Fortune 500) -- is indicative of the market's fatigue, said Kalivas.
This week investors will have a slew of top-tier reports to sort through, including numbers from 13 Dow components.
Investors are also expecting this week's statement from the Federal Reserve to be a snooze. The central bank is widely expected to leave its benchmark interest rate unchanged when it wraps up a two-day meeting on Wednesday.
"I would be shocked if they said anything," said Abigail Doolittle, founder of Peak Theory Research. "The markets are moving ahead and the economy is doing better; they don't want to upset the apple cart."
Still, she said the stock rally that started in August has been driven largely by the Fed's stimulus efforts. In the weeks ahead, she added, "the smart money" will be looking for signs the economy can stand on its own two feet.
On the economic front, reports are due this week on housing and consumer confidence, as well as an early reading on fourth-quarter gross domestic product.
The economy has been showing signs of strength recently, with many economists raising their forecasts for 2011. But there is still much skepticism about how the economy will fare as government stimulus programs fade.
"If it turns out that the economy needs another round of government aid in the form of liquidity, I think you'll start to see the market decline into the summer as investors send a message to the Fed," said Doolittle.
Monday
There are no economic reports on the agenda, but quarterly results are due in the morning from fast food giant and Dow stock McDonalds (MCD, Fortune 500).
After the market closes, fellow Dow company American Express (AXP, Fortune 500) is scheduled to release results. In addition, transporter CSX (CSX, Fortune 500) and technology company Texas Instruments (TXN, Fortune 500) are among the others scheduled to report.
Tuesday
The Case-Shiller November index of home prices in 20 major U.S. markets comes out before the market opens.
The Conference Board, a business research group, will release its January report on consumer confidence shortly after the opening bell.
There are five Dow stocks scheduled to report earnings in the morning, including 3M (MMM, Fortune 500), DuPont (DD, Fortune 500), Johnson & Johnson (JNJ, Fortune 500), Travelers (TRV, Fortune 500) and Verizon (VZ, Fortune 500).
Yahoo (YHOO, Fortune 500) is one of the companies slated to report after the bell.
Wednesday
The Federal Reserve is widely expected to hold its benchmark interest rate near rock-bottom when it concludes a two-day meeting Wednesday. A policy statement is expected around 2:15 p.m. ET.
New home sales data are due after the market opens from the Commerce Department. Economists expect sales rose to an annual rate of 300,000 in December from 290,000 in November, according to consensus estimates from Briefing.com.
Also before the bell, results are due from blue chips Boeing (BA, Fortune 500) and United Tech (UTX, Fortune 500). ConocoPhillips (COP, Fortune 500), US Airways (LLC) and Xerox (XRX, Fortune 500) are some of the other companies scheduled to release earnings and sales figures.
After the close, coffee chain Starbucks (SBUX, Fortune 500) is slated to report.
Thursday
The government's weekly report on initial claims for unemployment benefits comes out at 8:30 a.m. ET, along with data on durable goods orders in December, and pending home sales in November.
AT&T (T, Fortune 500) and Caterpillar (CAT, Fortune 500) are the Dow stocks reporting results Thursday morning, along with DR Horton (DHI) and Eli Lilly (LLY, Fortune 500).
Microsoft (MSFT, Fortune 500) and Amazon (AMZN, Fortune 500) are up after the bell.
Friday
An advance reading on fourth-quarter U.S. gross domestic product is due before the market opens. Economists are forecasting a 3.8% annual rate of growth, up from 2.6% in the third quarter.
Chevron (CVX, Fortune 500), a Dow stock, and Ford (F, Fortune 500) and Honeywell (HON, Fortune 500) report results in the morning.
After the market opens, the University of Michigan will release its final report on consumer sentiment in January.