Dow boosted by earnings, tech shares lag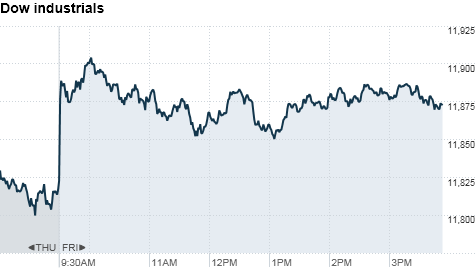 NEW YORK (CNNMoney) -- Stocks closed mixed Friday, with technology shares lagging the broader market, as investors weighed strong earnings from General Electric against a quarterly loss from Bank of America.
The Dow Jones industrial average (INDU) rose 49 points, or 0.4%, to close at 11,872, the highest level since June 2008. The S&P 500 (SPX) added 3 points, or 0.2%, but the tech-heavy Nasdaq (COMP) fell 15 points, or 0.5%.
For the week, the Dow gained 1.2%, while the S&P was flat. The Nasdaq lost about 1.7% over the last five trading days.
General Electric (GE, Fortune 500) led gainers on the Dow after the conglomerate reported a fourth-quarter profit that topped Wall Street forecasts, sending its stock up 7%. Energy stocks Exxon (XOM, Fortune 500) and Chevron (CVX, Fortune 500) were also strong after an industry group suggested oil prices will continue to rise in 2011.
"The profit news is pretty favorable today," said Nick Kalivas, vice president of financial research at MF Global. "GE is probably the poster child for that, but Google certainly did well last night."
Google (GOOG, Fortune 500) reported late Thursday that quarterly profits and sales rose from year-ago and beat analysts' forecasts. But shares of the search giant sank over 1% as investors digested news that Eric Schmidt is stepping down as chief executive, with co-founder Larry Page taking over in April.
Shares of Bank of America (BAC, Fortune 500) dropped 1.6% after it reported quarterly results that disappointed investors. But a better-than-expected quarterly report from SunTrust (STI, Fortune 500) bank in Atlanta helped temper ongoing worries about the banking sector, according to Kalivas.
The technology sector has been under pressure this week, despite strong earnings from tech leaders IBM (IBM, Fortune 500), Apple (APPL) and Google. Some traders say the sector is "overbought" and that strong tech earnings may not be enough to push the market higher.
"It's getting harder to surprise investors who already have elevated levels of enthusiasm related to equity investments," said Mark Luschini, chief investment strategist for Janney Montgomery Scott.
On Thursday, stocks closed modestly lower as technology shares remained weak, and worries about the downside of China's robust economy hung over the market.
But overall, stocks have been on an upward trajectory this year -- with the Dow Jones industrial average now less than 200 points shy of 12,000.
Companies: Fairfield, Conn.-based GE said its fourth-quarter earnings rose 31% to $3.9 billion, driven by strong performance in its finance arm and growth in equipment orders.
Bank of America reported a fourth-quarter net loss of $1.2 billion, or 16 cents per share. The latest results included a previously announced goodwill impairment charge of $2 billion. .
SunTrust said it earned $84 million, or 17 cents per share, in the bank's fiscal third quarter. That compares with a loss of $377 million, or 76 cents per share, in the third quarter of 2009.
Oilfield services company Schlumberger (SLB) said Friday that it earned net income of $1.16 billion in the fourth quarter, up 42% from last year. Earnings per share were 85 cents, versus a forecasted 83 cents. Shares tumbled 2.6%.
In other corporate news, Warner Music (WMG) said it retained Goldman Sachs (GS, Fortune 500) to find a buyer for all or part of the company, according to news reports. Shares of Warner Music surged 24%.
Hewlett-Packard (HP) announced late Thursday that four directors are stepping down. Five new directors will join the computer product company's board, including eBay (EBAY, Fortune 500)'s ex-CEO Meg Whitman. Shares of HP edged up 0.8%.
World markets: European stocks closed higher. Britain's FTSE 100 rose 0.5%, the DAX in Germany ticked up 0.5% and France's CAC 40 gained 1.3%.
Asian markets ended mixed. The Shanghai Composite soared 1.4%, while the Hang Seng in Hong Kong fell 0.5% and Japan's Nikkei tumbled 1.6%.
Economy: There are no market moving economic reports on tap for Friday.
Currencies and commodities: The dollar slipped against major international currencies, including the euro, the Japanese yen and the British pound.
Oil for March delivery was flat, slipping 48 cents to settle at $89.11 a barrel.
Gold futures for February delivery fell $5.50 to close at $1,341 an ounce.
Bonds: The price on the benchmark 10-year U.S. Treasury rose, pushing the yield down to 3.42% from 3.45%.