How Obama turned fat cats into his best friends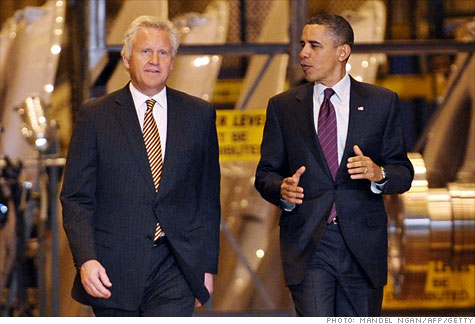 FORTUNE -- If there were any doubts about President Barack Obama's new commitment to making nice with corporate America, his performance last week should lay them to rest.
He opened the shortened workweek on Tuesday by ordering a top-to-bottom review of federal regulations to determine where he could cut red tape choking business development. On Wednesday, Obama welcomed Chinese President Hu Jintao by pressing privately for better treatment of U.S. companies doing business in China and hosting a CEO-heavy state dinner for him. And he rounded it out Friday by tapping GE (GE, Fortune 500) chief Jeff Immelt to head an economic advisory council that will focus on job creation.
Obama has signaled he will use tonight's State of the Union address to make explicit the sharp pivot to the center that he's executed since his party's humbling in the midterm elections. In a video sent to supporters this weekend, Obama previewed the address by saying he is going to focus on competitiveness. "My number one focus is going to be making sure that we are competitive, that we are growing, and we are creating jobs not just now but well into the future," he said.
Some in the corporate community remain critical, contending that Obama has a ways to go to prove he's not hostile to their interests. But others are ready to give him credit for a course correction that they say he's spelled out in the last three months and punctuated last week. In a sign that they're on to something, the president's critics in his own party are getting louder.
Renewed Obama supporters point to a string of moves. First came his post-election trip to Asia, during which he demonstrated his seriousness about dislodging a long-stalled free trade pact with South Korea. In early December, to howls from the left, he cut a deal with Republicans to extend the Bush tax cuts.
Then came his Dec. 15 meeting with 20 CEOs. "The CEOs who went came away feeling the president was determined to change direction," said Johanna Schneider, executive director of external relations at the Business Roundtable, an association representing top chief executives.
The group had been Obama's last ally among leading Beltway business collectives, until late June, when Verizon (VZN) CEO and roundtable chairman Ivan Seidenberg delivered a speech in Washington decrying government intrusion into the private sector that he said was creating uncertainty and stifling investment. The address marked a low point in Obama's relations with the business community.
Welcoming with open arms: Symbolic or substantive?
But now, Schneider says, the president is "walking the walk." He provided further encouragement this month by hiring Bill Daley, a former Clinton-era Commerce Secretary and top executive at JPMorgan Chase (JPM, Fortune 500), as his new chief of staff and moderate Gene Sperling to head the National Economic Council. There have been quieter moves, too, like Obama's proposal to allow long-haul Mexican trucks on American highways despite protests from labor, or the huddle that Treasury Department officials convened earlier this month with a group of chief financial officers to discuss corporate tax reform.
As significant, Schneider says, are the things Obama hasn't done -- or, more precisely, hasn't said. The populist tone the president sometimes struck in his first two years in office has been absent from his rhetoric in recent weeks. "You haven't heard criticism of industry groups or CEOs as a class. There's a sense that we're in it together," she said.
Obama's new approach was framed in the starkest terms last Wednesday, during Hu's trip. That morning, AFL-CIO president Richard Trumka delivered his own version of a State of the Union address that was for the most part drowned out by coverage of the Chinese visit. But in it, he took aim at both parties for creating an "Alice-in-Wonderland political climate" and ignoring a jobs crisis that is "devastating our poorest communities."
Trumka bemoaned that "we have let our transnational business titans convince our politicians that our national strength lies in their profits, not our jobs." And he specifically called out Goldman Sachs' (GS, Fortune 500) Lloyd Blankfein and JPMorgan Chase's Jamie Dimon, suggesting they are immoral for working to further enrich the very wealthy at workers' expense.
Hours later, Blankfein and 13 other American CEOs joined Obama, Hu and some Chinese business leaders for a private meeting, during which Obama reportedly pressed the executives' case that they need a level playing field to operate in China. Both Blankfein and Dimon attended the state dinner at the White House later that night, while labor officials were left to grumble that their invites had for the most part gotten lost in the mail.
One longtime China-watcher, Carolyn Bartholomew, a member of the U.S.-China Economic Security and Review Commission, says while the American executives on hand for the events at the White House got in good standing with the leader of a key emerging market, it is less clear how American workers will benefit from the summit.
The White House touted $45 billion in American exports to China that they contend will support up to 235,000 jobs in the U.S. But Bartholomew says Obama missed an opportunity to ensure small and medium sizes businesses had a place at the table.
Despite all the available evidence, some of Obama's corporate detractors insist the proof will only come in the months ahead. U.S. Chamber of Commerce President Tom Donohue, a vocal critic of the president and his policies, has offered some conciliatory words about the administration since the election. But in his annual "State of American Business" address earlier this month, Donohue indicated their scraps are far from history, pledging to vigorously oppose the coming "regulatory tsunami" as health care and financial regulatory overhauls are implemented.
Aric Newhouse, a top lobbyist for the National Association of Manufacturers, says the White House has sent some "great signals," in recent weeks, and he'll be tuning into the State of the Union hoping to hear Obama build on them with more specific plans for taxes, trade, energy and regulatory policy. But he says the question will remain: "What actually happens over the next three, to six, to nine months? Do we see an aggressive growth agenda that will create jobs and turn this economy around?"