Super Bowl tickets price at $5,000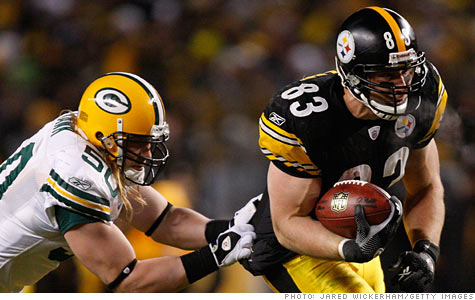 NEW YORK (CNNMoney) -- Want a last-minute ticket to the Super Bowl? Get ready to shell out five grand.
Tickets to the big game are averaging $5,082 from online vendors, according to a site that tracks them. That's a huge price hike up from their $600 to $1,200 face value.
Also compare that with $3,034 from this time last year when the Saints and Colts were gearing up for Super Bowl XLIV.
Do the Packers and the Steelers have larger, more devoted fanbases? Or is this one more sign that the economy is improving?
"It's a combination of both," said Christian Anderson, a spokesperson for ticket search site FanSnap.com. His site tracked the average asking prices for on 17 ticket sites, including StubHub, eBay (EBAY, Fortune 500), GreatSeats and RazorGator.
"It's a classic match-up with two of the most storied teams in the NFL with huge followings. Plus, their fans travel so well," Anderson said. "But it has to be at least somewhat reflective of an improving economy, too."
That said, FanSnap has not seen a remarkable increase in ticket prices for sporting events across the board. Just a few months ago, World Series tickets were in line with prior years, Anderson said.
The most expensive single Super Bowl ticket purchased on StubHub so far, went for a whopping $15,002. According to that site, buyers based in Wisconsin are outnumbering those from Pennsylvania by two to one.
Still though, most of the demand is coming from Texas, where the Packers and Steelers will face off at Cowboys Stadium on Feb. 6, StubHub said.
About 4,000 Super Bowl tickets are still available on the so-called "secondary market." Cowboys Stadium holds 80,000 seats but has a maximum capacity of 110,000 including standing room.
The cheapest tickets for standing room only, start at $2,200, Anderson said.