Paying lip service to the national debt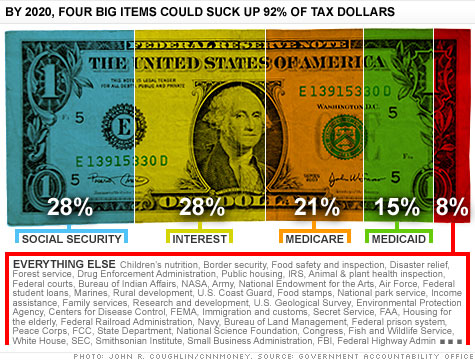 NEW YORK (CNNMoney) -- For those who worry about the national debt, the good news is that more and more lawmakers are stepping up with ideas for how to reduce it.
The bad news: Many of their initial ideas are still ignoring the biggest drivers of the growing shortfalls the country will face.
The question is will President Obama, who frequently mentions the need for debt reduction, set the record straight for both parties in his State of the Union address on Tuesday evening? And will he step up next month with something other than minor proposals to bring deficits down in his 2012 budget proposal?
One recent example of a plan that still misses the big picture is the House Republican Study Committee's proposed Spending Reduction Act. The bill, introduced last week, would shave $2.5 trillion off of spending over the next decade. The group would achieve that goal in large part by capping certain types of spending at 2006 levels.
But the proposal's aim is actually very narrow -- limited mostly to non-defense "discretionary" spending, which is less than 20% of the total federal budget. But it's the other 80% -- the funding for defense, Medicare, Medicaid and Social Security -- where much of the growing debt problem is rooted.
One tangible way to think of the debt trajectory is to consider a simulation by the independent Government Accountability Office.
Today the United States spends roughly 76 cents of every federal tax dollar on just four things: Medicare, Medicaid, Social Security and interest on the debt. By 2020, that number could jump to 92 cents of every tax dollar. And by 2040, every dollar of federal tax revenue will be needed just to pay for Social Security and interest on the debt.
"If left unchecked, the growth of these areas of the budget, especially mandatory spending, will drown out all the savings in the Republican Study Committee proposal, and more," Maya MacGuineas, president of the nonpartisan Committee for a Responsible Federal Budget said in a statement.
In presenting their legislation last week, Republican lawmakers characterized their proposal as a "start" and acknowledged that entitlement programs and defense spending would need to be "on the table" too. But they gave no indication of how or when.
Republicans have also shown marked resistance to the idea of accompanying spending cuts with increases in tax revenue, even though both left- and right-leaning deficit hawks have said both are necessary parts of any viable debt-reduction solution.
Lastly, while $2.5 trillion is close to the size of deficit reduction that will be needed, it's a lot to pull out of one small slice of the budget without consideration for how much would come out of the rest of the pie.
To convince deficit hawks that he's serious about putting the federal budget on a more sustainable track, Obama will need to offer some concrete proposals.
He didn't openly embrace -- or in fact do much at all publicly -- to acknowledge his own bipartisan debt commission's report when it was presented on Dec. 1.
That report made bold proposals on cutting defense and reforming entitlements. It also called for serious non-defense discretionary cuts and it advocated for radical tax reform. The plan would cut spending and raise more revenue than the current tax code.
Will the president, as he has said many times, include any of the commission's recommendations -- which he promised to take under advisement -- in his budget proposal for 2012? Will his budget, as he promised all the G20 countries, call the bluff of anyone who's all talk but no action on the debt?
And will he stick to his oft-repeated pledge not to raise taxes on the middle class, or will he take the advice of two of his top former economic advisers, Christina Romer and Peter Orszag? After they left the White House, both said publicly that the country cannot adequately deal with its long-term debt through spending cuts and tax increases on the rich alone.
The State of the Union address on Tuesday and Obama's budget proposal next month may offer some answers to these and other deficit-related questions. Of course, if they don't, that will say something too.