Cashing in on a China bet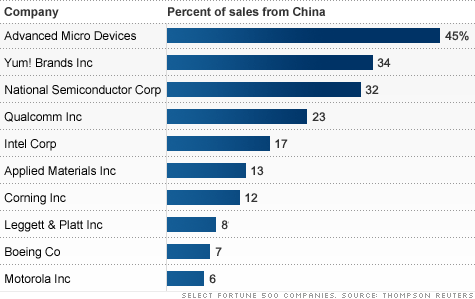 NEW YORK (CNNMoney) -- President Hu Jintao's visit may be over, but the hype around China is not going away. As the country's economic boom continues, investors want to know how they can cash-in on this rapid growth.
One way is to buy stock in U.S. companies that have big exposure to China. But be careful -- China's ascent is not a sure bet, and analysts are divided over what types of companies will fare the best.
Ranking exposure to China isn't easy. Not all companies disclose their China sales. Others profit from exporting products from the country, an even harder number to pin down.
Among companies with manufacturing plants in China pumping out goods for the Chinese market, General Motors is one of the most exposed.
In the last 10 years GM (GM), along with a Chinese partner, has opened 15 plants there. In 2010, for the first time ever, GM sold more cars in China than it did in the United States.
Other companies operating in China and selling their goods there include consumer products companies like Procter & Gamble (PG, Fortune 500) and restaurants like Yum Brands (YUM, Fortune 500), owner of Kentucky Fried Chicken.
"These companies are going to see enormous growth," as Chinese consumers get richer, said Damien Ma, a China analyst at the Eurasia Group, a political risk consultancy.
Other companies profit from China by making goods in the U.S. and exporting them to China.
Boeing is a leader in this category. Aircraft sales totaling $5.2 billion in 2009 are the United States' second largest export to China behind soy beans, according to the U.S. International Trade Commission. Boeing (BA, Fortune 500) accounts for the lion's share of those sales.
Yet Boeing doesn't have a single manufacturing facility in China. While the company imports parts from around the world, including China, its planes are assembled in the United States.
General Electric is another big exporter to China. Power generation equipment is the United States' third largest export to China, accounting for $8.4 billion in sales in 2009. A big chunk of that is from GE (GE, Fortune 500), which makes turbines to make electricity from wind, coal and natural gas. Its jet engines also find their way into the country on Boeing planes.
On the other end of the spectrum is Wal-Mart (WMT, Fortune 500). The retailer is opening stores in China, but more importantly, it benefits hugely from goods that are made cheaply there and then shipped to the United States.
The company wouldn't say just how much it imports into the United States, but according to the activist group Wal-Mart Watch, it was $27 billion in 2006. A number outside analysts said sounded about right.
Many companies do a bit of both.
Caterpillar (CAT, Fortune 500) does a good business in China, selling excavators and other heavy equipment to the country's booming construction sector. That equipment is a mix of products produced in China and in the United States, said Stephen Volkmann, a machinery analyst at the investment bank Jefferies.
While Caterpillar does maybe a billion a year in sales in China, Volkmann said that represents less than 5% of its total sales. The Chinese, it appears, are still more attracted to lower-cost construction equipment.
The industry with the most tangled web in China is electronics. Many companies both manufacture and sell in the United States and China. This helps explain why electronic goods are both China's largest export to the United States and its largest import from the States.
Motorola (MMI) has long been doing that, said Edward Snyder, a technology analyst at Charter Equity Research.
Snyder said that at least half, if not all, of Motorola phones are made in China.
Lots of electronic work is done by contract manufacturers in China. Companies like Dell (DELL, Fortune 500) and Hewlett Packard (HPQ, Fortune 500) use these contractors to make their machines.
Other companies profit from software licenses. A big chunk of China's IT infrastructure is run on Qualcomm (QCOM, Fortune 500) technology, on which the company collects big royalties. Microsoft (MSFT, Fortune 500) is another big player in this market.
Which way for China
Of course, China's continued rise is not guaranteed and plenty of people are bearish about the country.
Among the dangers: a potentially disastrous real estate bubble, rising income inequality, even the threat of the country fracturing along ethnic lines.
Eurasia Group's Ma thinks the country could sink into a Japan-style cycle of slow growth and deflation if the imbalances between rich and poor are not addressed.
Still, he remains optimistic and thinks consumer products companies will prosper as the Chinese get richer and government-backed industries take on U.S. companies in sexier areas like high tech or heavy industries.
Derek Scissors, an Asia economist at the Heritage Foundation, also thinks China must deal with its inequality problem if it is going to shift from an economy supported by government spending to a more sustainable one based on consumer demand.
"They are on the wrong track," said Scissors. "The economy is growing, but the people aren't getting richer."
But he differs with Ma as to what sectors will be profitable for U.S. firms. He thinks companies like high tech and heavy industry will benefit as they sell to state-controlled enterprises, while consumer products companies will remain stymied by thin margins and rules preventing foreign dominance of the retail sector.