GM plans to build a less expensive Volt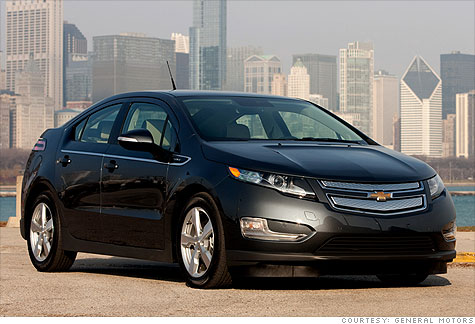 NEW YORK (CNNMoney) -- The Volt has won nearly every major award offered and stirred up tons of interest, but one criticism persists: The price is way too high.
Chevy cars -- including the Volt -- have always been intended for a mainstream market, but at $41,000, it seems GM is asking buyers to pay as they might for a Mercedes-Benz or BMW.
The next-generation Volt will almost certainly cost less, GM spokesman Rob Peterson said. And the same changes that make it cheaper should make it better, too.
So what's the sweet spot for the Volt, price wise? A $7,500 federal tax credit takes the cost down to around $30,000. That seems like a more viable price, but tax credits wont last forever.
"The ideal price point for un-subsidized large-volume sales would probably be no more than $30,000," said John O'Dell, editor of the Web site GreenCarAdvisor.com.
Fortunately, even when subsidies disappear, today's high prices for electric cars will ease as the technology improves and gains wider appeal.
Battery: The Volt's battery pack is estimated to cost about $10,000. Besides making it more cheaply, GM might simply want to shrink it.
The battery is probably more powerful than it really needs to be, said Oliver Hazimeh, head of the electric vehicle practice at consulting firm PRTM.
"Offering customers a little of different capacity may be an option, so you can provide customers with a choice," Hazimeh said.
For a significant cost savings, some customers may be willing to give-up some battery power.
Bulk up production: Another way to reduce battery costs is to sell more Volts, or more vehicles based on Volt technology, Hazimeh said.
"It's hard to look at this technology and make a business case out of it with one vehicle," Hazimeh said.
GM is reportedly considering a version of the Volt to be sold under the Cadillac brand and has shown a concept version of the Volt with a tall wagon body.
Selling more Volt batteries will spread out some of the production costs, making each one cost less
Better battery tech: The impact of volume on cost savings would be minimal, though, said Jon Lauckner president of GM Ventures, a GM subsidiary that finds and invests in companies that have promising technology the automaker could use. Real savings will come through technology improvements, he said.
"You do extensive amounts of research and development and you get the same functionality or better with fewer cells," he said, "and you take a whole lot of cost out of the vehicle."
For example, GM Ventures recently invested in California-based Envia Systems, a company that makes a new type of battery material that promises to hold more energy in less space and that's also less expensive than the stuff batteries are currently made from.
Electric motors: Even though electric motors have been around about as long as gasoline engines, there's room for improvement.
One way to make a cheaper electric motor would be to do away with the magnets most of them use today, said Michael Crane, an executive in charge of hybrid and electric vehicle technology at auto parts supplier Continental.
Magnets can be expensive. Today's electric car magnets, known as permanent magnets, rely on exotic materials like neodymium and dysprosium.
"These materials are expensive because they aren't available everywhere in the world," he said.
Researchers are working on magnets that can be made from cheaper, easier to find stuff. he said.
Continental recently unveiled a new motor that foregoes "permanent magnets" altogether and instead uses only electromagnets. These are coils of wire wrapped around a core that become magnetic only when an electric current is applied.
GM will use motors like these in its new hybrid Buick LaCrosse, Lauckner said.
Electronics and accessories: Besides the batteries and motors, electric cars contain a host of other electronic parts that control everything from the climate inside the cabin to how power flows to and from from the battery.
All this hardware and circuitry is costly and complex, said Crane. Today, circuitry is being built as single units that weigh less, use less material -- especially those expensive exotic metals -- and are easier and faster to put together on the assembly line.
Accessories like air conditioning and power steering and braking systems are also big opportunities for cost savings, said Lauckner. Originally designed to be powered by gasoline engines, engineers are shifting to new systems specifically designed for hybrid and electric vehicles. These are are still being perfected, he said.
Cutting the fat: Like many electric and hybrid cars, the Volt is loaded up with options. Taken together, these features make customers feel like they're getting a lot for their monthly payments.
While doing away with some added features like a full navigation screen, a fancy stereo or expensive paint colors, could trim costs, Hazimeh advises caution if GM is considering that approach.
Electric vehicle buyers are after much more than just saving money on fuel, and these features "have a certain coolness factor," that buyers have come to expect.
One thing GM shouldn't do, he warned, is make the Volt affordable by making it boring.