Roubini at Davos: Raise taxes!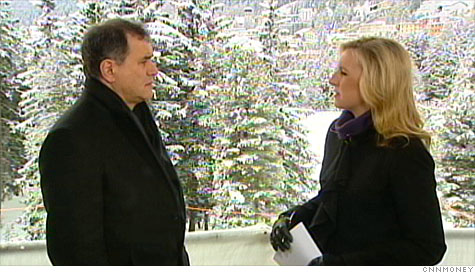 NEW YORK (CNNMoney) -- Lawmakers need to stop "kicking the can down the road" and attack the massive national deficit from both the spending and revenue sides, celebrity economist Nouriel Roubini told CNNMoney's Poppy Harlow in an exclusive interview Tuesday.
And that means taxes need to go up soon.
"You have to reduce defense spending, and raise taxes on the rich and taxes on the middle class," Roubini told CNNMoney.
Roubini, a New York University economist nicknamed "Dr. Doom" for his famously bearish predictions, is in Davos, Switzerland this week, hobnobbing with other world elites at this year's World Economic Forum.
While he said he agreed with some of the spending cuts President Obama laid out in his State of the Union address Monday evening, he's also skeptical. Policymakers aren't doing enough, he said.
Meanwhile, he told the group in Davos that the global economic recovery is underway, but not without risks. U.S. unemployment looks to remain high for years, Europe is still struggling with its debt crisis and China may have been too slow to put the brakes on its rapid economic growth.
While some of those risks are nothing new, 2011 brings a basket of fresh worries -- the biggest of which are rapidly rising energy and food prices, he said.
Those two things alone could fuel inflation to barrel out of control, derail emerging market economies and incite social and political instability, he said.
"When oil reached $148 a barrel in the summer of 2008, that was the tipping point for the global economy, led to global recession," Roubini said. "That rise in oil and commodity prices led to a significant negative effect on income and spending in the U.S. and Europe, Japan, China and India."
Roubini sounded more bearish on China in particular, even echoing some statements of so-called permabear hedge fund manager Jim Chanos -- who is betting on a Chinese real estate bust. (Watch CNNMoney's exclusive interview with Chanos.)
As energy prices continue to rise, Roubini said, inflation could cause the Chinese economy to overheat.
China's economy is already barreling ahead at a pace of 9.8%, and in December, it saw food prices alone surge 9.5%. Stripping out food, inflation was 2.1%.
Meanwhile, China's government has failed to curb excessive credit growth, and an asset bubble could be forming in commercial and residential real estate there, Roubini said.
"I don't think China is going to have a hard landing, but certainly this trade-off between maintaining high growth and controlling inflation is going to be a serious policy challenge," he said.
The United States has problems of its own, including its massive national deficit and struggling state and local governments, which Roubini likened to the debt crisis in Europe.

"Greece is only 3% of the eurozone GDP, while California alone is one-seventh of U.S. GDP," he said.