Dow 12,000? Who cares?
NEW YORK (CNNMoney) -- Much has been made of the fact that the Dow Jones industrial average surpassed 12,000 Wednesday for the first time in about two-and-a-half years. Too much.
Don't get me wrong. I understand why people get all worked up when the market surpasses a so-called milestone.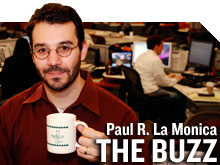 Round numbers are an easy concept to understand and embrace. That's why investors were also excited about the S&P 500 topping the 1,300 level Thursday for the first time since September 2008.
Stocks pulled back from those levels Friday in the wake of concerns about the unrest in Egypt. But the fact that the Dow hit 12K again and S&P 500 was at 1,300 just hammers home how far the market has come back since the Dow hit a low of 6,440 and the S&P 500 bottomed at 666 in March 2009.
"You can't discount the psychological importance of staring up at a trading screen and seeing a nice big round number," said Richard Ross, global technical strategist with Auerbach Grayson, a brokerage firm in New York.
Still, it's important to put the Dow's comeback in context. For one, the Dow is a slightly different animal now then it was when it last hit 12,000 in June 2008.
Citigroup (C, Fortune 500), GM (GM) and AIG (AIG, Fortune 500) have since been replaced by Kraft (KFT, Fortune 500), Travelers (TRV, Fortune 500) and Cisco Systems (CSCO, Fortune 500). Also, as sexy as it may be to focus on the numerical value of a market barometer, i.e. the Dow is up or down 200 points, it's percentages that matter more.
Because of the simple laws of math, big point gains for the Dow (and S&P 500 for that matter) aren't as significant as the Dow and S&P 500 march steadily higher.
To get from 10,000 to 11,000 (or 1,000 to 1,100) was a 10% jump. But it was only a 9% increase from 11,000 to 12,000 (or 1,100 to 1,200.) And it only took an 8% increase for the S&P 500 to go from 1,200 to 1,300. So it's easier to get to each new milestone.
There's also the fact that the Dow, in addition to having a narrow focus on just 30 companies, is also weighted by price, and not market value like the S&P 500 and several other indexes.
That makes for an odd mix. A move in Dow component Caterpillar, for example, carries more significance than a move in GE -- despite the fact that Caterpillar's market value is $61 billion and GE is worth $213 billion.
That's because Caterpillar (CAT, Fortune 500), with a stock price of about $96, has the second-highest weighting and GE (GE, Fortune 500), with a share price of only $20, ranks 27th out of 30.
"This is not the best way to view the markets. I joke that the Dow was a great average to judge things ... in the 1920s," said JJ Kinahan, chief derivatives strategist with TD Ameritrade in Chicago.
Technical strategists, who use arcane tools and charts with funny sci-fi sounding names like Fibonacci retracements and the McClellan Oscillator, say that there are more important levels for the Dow and S&P 500.
Ross said that the next important level of resistance for the S&P 500, according to his models, is 1,321. For the Dow, he has 12,800 as the next key milestone. Kinahan points to 1,350 as a crucial level for the S&P 500.
Other technical strategists argue that the Dow and S&P 500 aren't even the most important market barometers to watch. Ryan Detrick, senior technical strategist with Schaeffer's Investment Research in Cincinnati, said he pays a lot of attention to the Russell 2000, an index of smaller stocks.
The Russell 2000, which as its name suggests, is made up of 2,000 companies, clearly represents a broader mix of the economy than the 30 monoliths in the Dow and the S&P 500's large-ish members.
And Detrick said he's encouraged that the Russell 2000 is also trading near a multi-year high. It crossed the 800 (another round number) threshold last week before pulling back a bit. But it was the first time since November 2007 the Russell 2000 was above 800. Note that date.
The performance of small cap stocks, more than larger multinational brethren, tend to be more closely tied to the twists and turns in the U.S. economy.
Smaller companies usually do most of their business domestically so it's no surprise their earnings and stock prices started to fall right around the official onset of the recession in December 2007. By the same token, it's reassuring that small caps are now helping to lead the market higher.
"Small caps are not as dependent on exports. So with small companies doing well, it is a better sign of domestic demand improving," Detrick said. "It's more critical for the Russell 2000 to stay around 800 than for the Dow to be at 12,000."
-- The opinions expressed in this commentary are solely those of Paul R. La Monica. Other than Time Warner, the parent of CNNMoney, and Abbott Laboratories, La Monica does not own positions in any individual stocks.