Why gold is losing its luster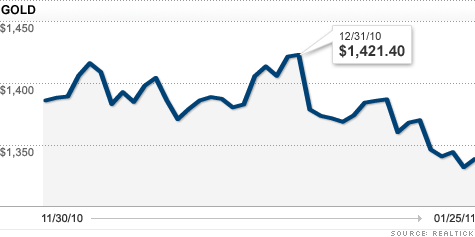 NEW YORK (CNNMoney) -- Gold is looking a little less shiny lately.
As fears over debt, inflation, and political instability have eased over the past several weeks, gold has lagged behind stocks and bonds.
The precious metal has fallen more than 6% from the start of the year and is now trading at a three-month low. That's a far cry from the record-setting run gold was having during the second half of 2010.
The reason behind last year's rally is simple. Gold is considered by many to be a "safe haven" investment that can be used as a hedge against inflationary pressures, political instability and overall economic uncertainty. With those fears easing, analysts say there's been little reason to be in gold right now.
"Over the past several weeks, you've seen stock markets rise to multiyear highs and the political environment seems to look a bit better both domestically and overseas," said Carlos Sanchez, precious metals analyst with CPM Group.
It's not that Europe's debt problems have been solved, or that the U.S. economy is completely out of the woods, it's just that investors are beginning to gain enough confidence in the recovery to find other assets more attractive -- like stocks or bonds.
But if the U.S. recovery really starts to gain momentum and central bankers, particularly the Fed, start raising rates, analysts say its possible gold prices could drop another 5% to 10% before resuming any meaningful rally.
Interestingly, investors started shifting out of gold exchange-traded funds, such as SPDR Gold Shares (GLD), late last year. According to Morningstar data, investors pulled out nearly $1 billion from that ETF during the fourth quarter, when gold was on its record-setting tear.
Contrast that with the second quarter, when investors poured some $7 billion into the Gold Shares ETF, while gold was trading around $1,200 an ounce. It's currently trading just above $1,300 an ounce.
"There's a growing consensus that the U.S. economy is back on solid footing and the Fed could begin reining in its ultra-accommodative monetary policy," said Daniel Brebner, precious metals analyst for Deutsche Bank. "If this is in fact the case -- then gold is no longer required as part of a portfolio."
Analysts also cited the recent move by China to tighten lending standards as another bearish indicator for gold.
"The more Chinese tightening ahead, the more markets worry that the world's second-biggest economy slows abruptly, which would impact demand for commodities," said Ashraf Laidi, chief market strategist with CMC Markets in London.
Oddly, one thing that has been having little impact on gold recenlty is the weaker U.S. dollar. Gold typically moves in the opposite direction but since the start of the year, the two have moved in tandem.
"We simply have different fundamentals exerting themselves," Sanchez said. "We expect prices to pick up in a month or two."
Brebner thinks gold will end 2011 at $1,600 an ounce and has a 2012 price target of $2,000 on the precious metal. According to a recent CNNMoney exclusive survey, a number of market strategists agree that gold will resume its upward move, but at a more measured pace.