Stocks at fresh highs in 'bull vs. bear battle'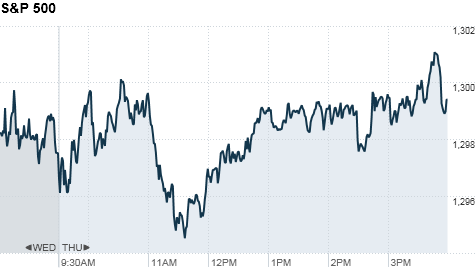 NEW YORK (CNNMoney) -- U.S. stocks managed to tick higher Thursday, pushing the Dow and S&P to their highest levels since the summer of 2008.
The major indexes have been inching higher for months, but Stifel Nicolaus managing director Tom Schrader expects stocks will soon head lower.
The Dow and S&P 500 failed to close above key psychological levels breached earlier in Thursday's session.
"We've got a classic bull versus bear battle going at these high levels, and I wouldn't be surprised to see the market pullback between 8% and 10%," Schrader said.
The Dow Jones industrial average (INDU) ended up 4 points at 11,989.83, the highest since June 2008. The modest advance was led by GE (GE, Fortune 500), Home Depot (HD, Fortune 500) and United Technologies (UTX, Fortune 500). Caterpillar (CAT, Fortune 500), which posted a fourth-quarter profit that quadrupled from a year ago and a 62% surge in revenue, was also a big gainer.
With a gain of about 3 points, or 0.2%, the S&P 500 (SPX) ended just under 1,300. The index crossed that level earlier in the session for the first time since September 2008. The Nasdaq (COMP) rose 16 points, or 0.6%.
Netflix (NFLX) was the biggest gainer on both the S&P 500 and Nasdaq. Shares of the movie distributor surged 15% after the company said subscribership topped a record 20 million. After the closing bell Wednesday, Netflix reported better-than-expected earnings but sales came in slightly below forecasts.
Stocks ended higher Wednesday, after the Federal Reserve kept key interest rates steady and left its bond-buying plan in place. The Dow finished at its highest level since the summer of 2008, after rising above the 12,000 mark during the session.
Economy: The number of Americans filing for first-time unemployment benefits jumped 51,000 to 454,000 last week, according to the Commerce Department. The reading was much higher than expected. Continuing claims also rose more than expected.
Meanwhile, durable goods orders for the month of December slipped 2.5%, while economists had been expecting the reading to tick up 1.5%.
A report on pending home sales showed a 2% jump in November. Economists were expecting sales to slip 0.5% during the month.
Companies: AT&T (T, Fortune 500) and Procter & Gamble (PG, Fortune 500) were the biggest laggards on the Dow. Shares of AT&T fell more than 2% after the company's earnings only beat forecasts by a penny, while Procter & Gamble's stock dropped almost 3% after the company logged a lower quarterly profit.
Before the opening bell, Nokia (NOK) reported a quarterly operating profit that fell 23% from a year ago and offered a disappointing outlook for the beginning of the year. Shares of the cellphone maker slumped 1.6%.
Microsoft (MSFT, Fortune 500) reported financial results just minutes before the closing bell. The software giant posted a second-quarter net income of $6.6 billion on sales of $20 billion, easily beating analyst estimates. Shares ended flat and edged lower after-hours.
After the closing bell, Amazon (AMZN, Fortune 500) posted a fourth-quarter profit of $416 million as sales rose 36% to $12.95 billion. But in its first quarter guidance, the e-commerce giant said operating margins will likely decline from a year earlier. After climbing more than 5% during Thursday's session, shares of the e-commerce giant dropped 10% in after-hours trading.
World markets: Early Thursday, Standard & Poor's downgraded Japan's sovereign credit rating to AA- from AA, amid concerns of mounting debt.
Though the downgrade pressured the Japanese yen, other markets shrugged it off.
"With the predominance of China in the world economy, Japan doesn't get much attention," Schrader said. "It's still the world's third-largest economy, but I don't expect any spillover pressure in other markets."
Asian markets ended the session mixed. The Shanghai Composite gained 1.5% and Japan's Nikkei ticked up 0.7%, while the Hang Seng in Hong Kong slipped 0.3%.
European stocks finished higher. Britain's FTSE 100 rose 0.2%, the DAX in Germany climbed 0.5% and France's CAC 40 ticked up 0.4%.
Currencies and commodities: The Japanese yen sank almost 1% versus the dollar, following Japan's downgrade. The dollar also gained some ground against the British pound, but was lower versus the euro.
Oil for March delivery was down $1.69 to settle at $85.64 a barrel.
Gold futures for February delivery slipped $14.50 to settle at $1,318.40 an ounce.
Bonds: The price on the benchmark 10-year U.S. Treasury was slightly higher, and the yield fell to 3.39% from 3.43% late Wednesday.