Thanks to Madoff, you can buy a stake in the Mets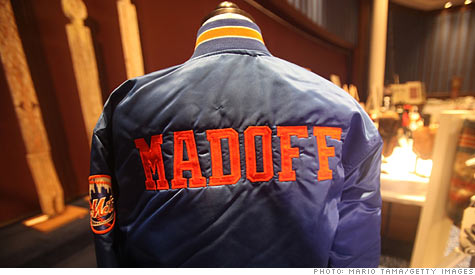 NEW YORK (CNNMoney) -- Want to buy a piece of the Mets?
Managers of the New York Mets are auctioning off a minority stake in the baseball team, as they face pressure from a lawsuit related to Bernard Madoff's Ponzi scheme.
"To address the air of uncertainty created by this lawsuit, and to provide additional assurance that the New York Mets will continue to have the necessary resources to fully compete and win, we are looking at a number of potential options," said Mets chief executive Fred Wilpon and chief operating officer Jeff Wilpon.
Their company, Sterling Equities, faces a lawsuit filed in U.S. bankruptcy court in New York on Dec. 7 by Irving Picard, the court-appointed trustee in the Madoff bankruptcy recovery. Sterling, a real estate firm, won't comment on the lawsuit, except to say that it was under seal.
The trustee has sued hundreds of investors who withdrew more from Madoff's firm than they put in, even though many of them claim to have known nothing of the scheme. In fact, many of the sued investors describe themselves as destitute victims who were wiped out by Madoff.
"As Sterling Equities announced in December, we are engaged in discussions to settle a lawsuit brought against us and other Sterling partners and members of our families by the trustee in the Madoff bankruptcy," said the Wilpons, in a press statement. "We are not permitted to comment on these confidential negotiations while they are ongoing."
Steve Greenberg, managing director at Allen & Co. and advisor to the Wilpons, said in a call with reporters that they will "consider calls from people who want to be [minority] owners in the Mets. It's starting today and we'll see how it plays out. I expect there to be a significant amount of interest in this opportunity. We'll pursue [this] and make judgments as we go."
In December, Sterling Equities said that lawsuit did not threaten the team's financial standing. The Wilpons said Friday that Sterling Equities will retain its majority ownership in the Mets.
The Wilpons, a father and son team, purchased a 50% stake in the team in 1986, and bought the remaining 50% in 2002 from co-owner Nelson Doubleday following a legal dispute. The team was valued at $391 million at that time, according to an appraisal submitted in that lawsuit.
According to Forbes, a leading authority on team valuations, the Mets were worth $858 million last year, making them the third most valuable baseball team, but worth barely half as much as their crosstown rivals the Yankees, who are valued at an estimated $1.6 billion.
Madoff pleaded guilty in March 2009 to orchestrating the most massive Ponzi scheme in history and is currently serving a 150-year sentence at a medium-security federal prison in Butner, N.C.
Madoff used his Manhattan investment firm as a front for the pyramid-style scam. He stole money from investors while claiming to be investing it in the markets. He would provide the stolen money to his earlier investors, while fraudulently claiming that the returns were legitimate.
Madoff was also a Mets fan. His satin Mets jacket, emblazoned with his name on the back, was once of his many possessions and properties seized by the U.S. Marshals to compensate victims. The jacket went for $14,500 at auction.