Monster shares tumble 25% on weak outlook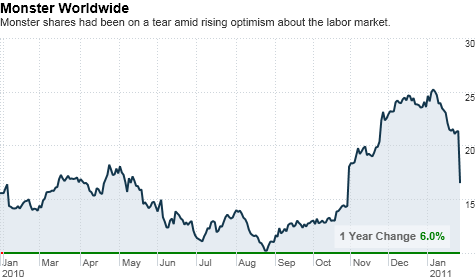 NEW YORK (CNNMoney) -- Monster Worldwide Inc. shares lost a quarter of their value Friday, after the job recruitment site spooked investors with its disappointing earnings outlook.
The jobs site reported quarterly results after the bell Thursday, offering first-quarter earnings guidance that came in below Wall Street's expectations.
While analysts had been expecting Monster to earn 3 cents per share, the company said it now expects earnings per share between 1 cent to 4 cents in the quarter.
The disappointing outlook put a dent in the stock's recent run-up, with shares pulling back 25.4% to $15.96 in Friday trading. Monster (MWW) shares had been on a tear for the last few months -- surging more than 80% since early September -- amid growing optimism about the labor market.
For the fourth quarter, the company logged earnings that were in line with expectations, but its revenue missed as the company struggled with currency rates and bad weather led to fewer contract signings.
Mark Marcon, a senior research analyst at Robert W. Baird & Co., said he thinks the company is trying to play it safe by issuing lower guidance, after missing expectations in the fourth quarter.
"Since the company reported third quarter results, expectations had grown because the labor market data was really improving and continued to improve through January, so expectations for the fourth quarter had risen to the top end of what management's range had been," he said. "The element that hits their first quarter guidance is, I suspect, they're trying to be more conservative now."
Do the weak results mean that we should start worrying about a slowdown in jobs growth? Not according to Macon.
"We have so many other data points suggesting that the labor market is improving that to extrapolate any shortfall relative to their first quarter expectations would be a complete misreading of the situation in our opinion," he said.
Despite the soft fourth quarter and lower first-quarter guidance, ThinkEquity analyst Aaron Kessler wrote in a research note that his firm still has confidence in the company's long-term performance. While ThinkEquity has downwardly revised its first-quarter guidance, it will maintain a "buy" rating on the stock, partly due to the fact that Monster reiterated its full-year outlook.
Monster said it is confirming its outlook of 20-25% bookings and revenue growth for the year. It also expects to earn 36 to 48 cents this year, compared to the 43 cents expected by analysts.
"Our unrivaled global reach, innovative solutions, and search products ... will allow us to win against all competitors in the market and to continue to gain global market share in 2011," Monster CEO Sal Iannuzzi said in a statement accompanying the job recruiter's earnings results.