Exxon Mobil posts 53% jump in profit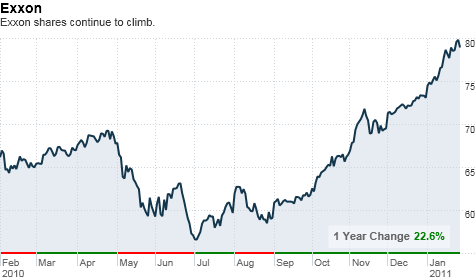 NEW YORK (CNNMoney) -- Exxon Mobil posted quarterly earnings Monday that topped Wall Street expectations, thanks to rising oil prices and a jump in production.
The world's largest publicly traded oil company logged earnings of $9.25 billion, or $1.85 a share in the fourth quarter. That was up 53% from $6.05 billion, or $1.27, a year earlier.
Analysts surveyed by Thomson Reuters had expected earnings per share of $1.63.
The results marked the best quarterly performance since the third quarter of 2008, when oil prices averaged nearly $115 a barrel, according to analysts at Oppenheimer. In the fourth quarter of 2010, crude prices averaged about $77 a barrel, the firm said.
Revenue also beat forecasts. Sales climbed 17% to $105.2 billion in the quarter, compared with expectations of $99.1 billion in revenue.
Shares of Exxon (XOM, Fortune 500) have climbed more than 20% over the past year, and the company's strong results sent shares 1.5% higher in midday trading Monday.
Exxon said production rose 19% in the fourth quarter, driven by the company's growing natural gas efforts -- including strong performance at its natural gas fields in Qatar. The oil company boosted its presence in the natural gas business with its purchase of XTO Energy last year.
"The integration has gone very, very well and we are very pleased with the way the organizations have been able to come together," vice president of Investor Relations David Rosenthal said on a call with investors. Rosenthal declined to break out specific results from XTO but said its activity was a large contributor to the overall rise in fourth-quarter production.
The gain in production came as oil prices steadily increased during the quarter. Crude prices jumped 12% in the fourth quarter now trading near $90 a barrel amid increased petroleum demand and a recovering global economy.
"[Rising oil prices] did help their earnings, but that part should have been built into expectations already," said Jason Gammel, an analyst at Macquarie Research. "The surprise came from more cost control and higher production volume and chemical margins."
The company's chemical unit logged earnings of $1.1 billion, a $351 million increase from a year earlier. For the full year, chemical earnings were a record $4.9 billion, up $2.6 billion from 2009.
Meanwhile, higher refining margins increased Exxon's quarterly earnings by $1.3 billion.
The company said it spent $5 billion in the fourth quarter to reduce its shares outstanding, and dividends of 44 cents per share were up 5% compared to a year ago.
Given the better-than-expected results in the quarter and steadily rising oil prices -- with economists polled by CNNMoney expecting crude to reach $100 by the end of 2011 -- Gammel said the company is likely to continue its winning streak throughout the year. And its stock is likely to follow.
"They just need to keep up their performance and production numbers, and if they can do that, their stock will perform pretty well," he said, adding that the company's fourth-quarter production increase came in about 2% higher than what he had been expecting.
Exxon doesn't seem to think keeping up its strong performance will be a problem, expecting global energy demand to be about 35% higher by 2030 versus 2005, with demand from developing nations increasing more than 70%.
It is confident its growing position in natural gas will also be a boon to business, expecting the alternative energy source to overtake coal as the second-largest source of energy in the world, behind oil.
"As you see the economy ramp up and demand for power generation ramp up, certainly the source of power generation that can be brought on the quickest -- certainly in the U.S. -- is fueled by natural gas," said Rosenthal.
Exxon's results follow on the heels of strong earnings from some of the nation's other oil giants. Last week, Chevron (CVX, Fortune 500) reported a 72% jump in profit, while ConocoPhillips (COP, Fortune 500) logged a 54% rise in quarterly income. BP (BP) is on tap to report earnings this week.