Volt sales are kicking the Leaf's butt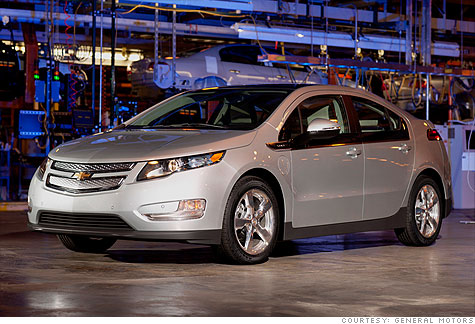 NEW YORK (CNNMoney) -- In January, General Motors sold 321 Chevrolet Volt cars. Meanwhile, Nissan, its fiercest electric car competitor, has sold just 87 Leaf cars in the U.S.
Both cars went into production at the end of November.
GM had originally planned to sell the Volt in only select areas of the country before 2012, but the automaker announced last week that it would expand sales of the Volt to all 50 states by the end of the year.
"It's a good public relations move," said Mike Omotoso, an industry analyst with the market research firm J.D. Power and Assoc., "because Nissan seems to be having some trouble delivering the Leaf."
Nissan has said 20,000 people have put down $99 deposits to be put on a waiting list for the car. Those people will get their cars, Al Castignetti, general manager for Nissan in the U.S., said, it just isn't certain when.
"Our main goal right now is quality, not quantity," he said.
So far, he said, there have been no quality issues and Nissan is working gradually to ramp up production. Nissan plans to open a U.S. plant to build the Leaf in 2012. For now, all Leafs are built in Japan.
In December, just after the cars went into production, Nissan sold 19 Leafs in the U.S. while GM sold 326 Volts.
Unlike the Volt, which sells only in the U.S., the Nissan Leaf is also sold in Japan and Europe. Global figures for Leaf sales were not immediately available.
For now, sales of these cars are limited by how fast the automakers can produce them and get them to dealers.
"Right now we're selling every one we can make," GM spokesman Tom Wilkinson said, "so as shipments rise we expect sales to rise as well."
It will be impossible to gauge consumer acceptance of either car until at least later this year, said Jesse Toprak, a sales analyst with the automotive Web site Truecar.com
"From a numbers perspective, we've got to wait until at least six months into full production," Toprak said.
After that, it may be months more before it's possible to tell whether ordinary car buyers, not just people interested in having the latest technology, want these cars.
"There's enough demand for both these cars to sell 50,000 units to just 'early adapters'," Toprak said.
GM has said that it doesn't expect the Volt to be profitable at least for several years as it works to trim the cars' production cost.