Emerging markets are hot: Place your bets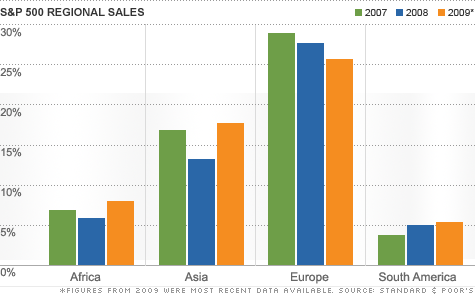 NEW YORK (CNNMoney) -- Investing in emerging markets is looking a little pricey right now but there's still plenty of room for investors to get in on the action.
U.S. companies such as GM (GM) and KFC-owner Yum Brands (YUM, Fortune 500) are generating an ever-increasing part of their sales from developing countries.
In fact, total sales are expected to rise an average 10% among S&P 500 companies that derive more than half of their revenue overseas, according to a Thomson Reuters research report. That compares to just a 6% uptick in total sales for companies that draw a majority of sales from the United States.
American companies with a presence in Asian and Latin American countries are especially likely to reap top-line benefits, said Thomson Reuters analyst Amitesh Kumar.
That's because those economies are enjoying a torrid pace of growth compared to the United States. China's economy grew a whopping 10.3% in 2010, while India's grew 8%. Meanwhile, the GDP in the United States grew a paltry 2.9% last year.
Other countries are also faring better than the United States. Russia's economic activity was crimped by a severe drought last summer, but the country was still able to grow at a 4% clip. And Brazil's GDP rose 8.4% during the first three quarters of 2010, the latest data available.
The bulk of that growth is being fueled by those countries transitioning from export-driven into consumer-driven economies, thanks to a rapidly growing middle-class.
"These countries are seeing the wealth of their populace increase," said Jeff Donlon, portfolio manager at Manning & Napier. "That plays into the hands of any company that makes goods or services welcomed by Chinese, Brazilian or Indian consumers."
And what better brand exemplifies that than Apple (AAPL, Fortune 500). Fred Alger portfolio manager Andrew Silverberg, who owns shares of the company, was particularly impressed that the iPad and Mac maker raked in $2.6 billion in revenue last quarter from the greater China region, a four-fold increase from the same period a year ago.
The Chinese are also bigger fans of Colonel Sanders' finger lickin' good fried chicken than Americans. Yum Brands, which owns fast-food chains like KFC and Pizza Hut, generated sales of $1.2 billion from China during its most recent quarter, while U.S. sales declined. The multinational corporation also added 245 restaurants in China during the first nine months of last year.
Similarly, General Motors sold more cars in China than it did in the United States last year, for the first time ever.
The growing consumer consumption story is still in its infancy, said Matt Lasov, leader of quantitative analytics at Frontier Strategy Group, a firm that advises multinational corporations on investing in emerging markets.
Indirectly investing in emerging markets through individual American companies helps mitigate some of the risk typically associated with emerging economies, such as inflation and political unrest.
And companies that have already made strides in emerging markets are stepping up their game. PepsiCo (PEP, Fortune 500), agreed to acquire a two-thirds stake in Russian juice-maker Wimm-Bill-Dann for $3.8 billion to win about half of the Russian juice market.
Starbucks (SBUX, Fortune 500) is on a track to open seven times as many stores in mainland China to have a total of 1,500 locations by 2015. And Procter & Gamble (PG, Fortune 500) has set a goal to reach at least 5 billion of the world's 7 billion consumers by 2015, and is looking to emerging markets to help it get there.
It's not just consumer brands taking advantage. Pharmaceutical firms such as Abbott Laboratories (ABT, Fortune 500) and Merck (MRK, Fortune 500) are also expanding.
Abbott Labs bought Belgium-based Solvay Pharmaceuticals last year to help expand its footprint in key Eastern European and other emerging markets such as Russia, India and Brazil.
"This is fundamental to our future success, since the lion's share of pharmaceutical growth in the years ahead will come from emerging markets," said Abbott CEO Miles White at the company's annual shareholders meeting last April.
Meanwhile, Merck has virtually doubled its sales team in China over the last three years to about 3,000 representatives and also claims a leading presence in Latin America. Merck anticipates that its sales from emerging markets will grow to represent more than 25% of the company's sales by 2013.
If investors' appetites run toward small caps, have no fear. Smaller U.S. companies are also benefiting from developing markets.
"Most people only think of multinational corporations benefiting from expanding their business outside the United States, and small-cap companies don't get a lot of credit for having significant international exposure," said Eric Marshall, portfolio manager at Hodges Funds, adding that the potential for a nice lift from emerging markets is missing from these companies' valuations.
He particularly likes Missouri-based Kansas City Southern (KSU), which generates about half of its revenue through its railroads in Mexico, as well as Tempur-Pedic (TPX) and A.T. Cross Company (ATX), which offer products that are poised to perform well across emerging markets.