Borders stock drops 35% in closing minutes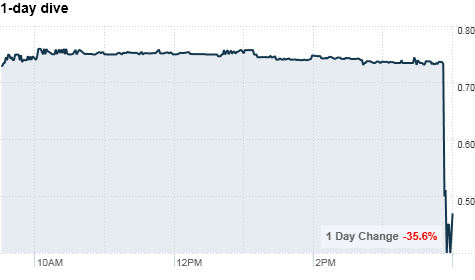 NEW YORK (CNNMoney) -- Shares of Borders Group plunged more than 35% Tuesday before the market close, and fell another 17% in after hours trading on a report claiming the company will file for bankruptcy.
The bookseller may file as soon as next week, Bloomberg reported, adding that one source indicated the chain is likely to close at least 150 stores.
The Bloomberg report was published just before the market close, at 3:54 p.m., and the effect on Borders' stock was immediate.
The stock closed Monday's trading session at 73 cents a share and held that level for most of Tuesday. In the final minutes of the trading session, the stock took a dive to close at 47 cents per share, and continued to lose value in after hours trading, falling to 39 cents.
Borders (BGP) did not immediately respond to a request for comment.
The struggling bookseller has in recent months sought to raise funds, but admitted in December that it was delaying payments to some publishers.
Borders and other bookstore chains have been struggling to improve their bottom lines as consumers increasingly move to e-readers.
In December, investor William Ackman of Pershing Square Capital Management, the company's largest shareholder, said he was willing to shell out $900 million to finance a takeover rival of Barnes & Noble.
Tuesday's report also sent shares of Barnes & Noble (BKS, Fortune 500) up by 7% in the final minutes of trading to close at $16.92.