8 reasons to invest in your home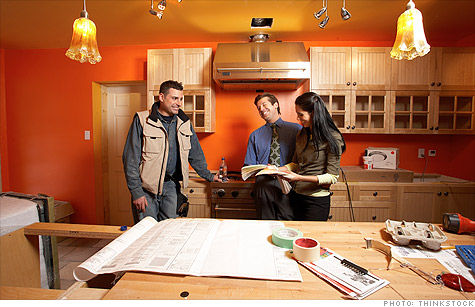 (MONEY Magazine) -- Not long ago, you could have your big remodeling project and get your money back too. Owners recouped an average of 87% of home improvement costs at resale in 2005, according to Remodeling magazine.
But by 2010 the magazine had pegged the typical payback at just 60%. Hardly the right time to tackle the new kitchen or master bathroom you've been dreaming of, right?
Not so fast, says Kermit Baker, senior research fellow at Harvard University's Joint Center for Housing Studies.
"In many cases, these projects make more sense now than they did at the height of the market," he said.
Assuming you like what you can't change about your home -- the neighborhood, the school district, the proximity to things that matter to you -- and you're planning on staying for five or more years, improving your home is a smart move. Here's why.
1. Funding is cheap
The current economic climate sweetens the pot for people on solid financial footing.
"The Fed doesn't want you to save -- it wants you to put your dollars into circulation," said Keith Gumbinger, mortgage market analyst at HSH.com.
Today's historically low interest rates mean that most home-equity lines of credit are charging their floor rates (your HELOC's probably is around 3% if you've held it for a couple of years, 4% or 5% if the loan is more recent).
And with the typical bank account and money fund paying far less than 1%, drawing down your savings barely costs you anything in lost income -- just don't jeopardize your safety cushion.
2. Eager contractors are discounting
Although the construction industry rebounded somewhat last year, business is still slow. Remember when getting a contractor to call you back was a challenge?
Now the best pros in town will happily bid on your job -- and they'll probably offer you prices that are 10% to 20% below what you would have paid when real estate was going gangbusters, according to Bernard Markstein, senior economist for the National Association of Home Builders.
3. Materials have come down
The cost of building supplies has tumbled too. Plywood is down 23% since its peak in the mid-2000s. Drywall is off 29%, framing lumber 35%.
Not all raw materials prices have fallen that much: Asphalt roofing, which is made from a petroleum byproduct, is down only 7% over the past two years. Insulation -- which has been in high demand because of energy rebates and high fuel prices -- is down a mere 2% since 2006. Still, on the whole, construction supplies are bargains right now.
4. You'll cut your energy costs
You don't have to hire a green builder to see energy savings from a renovation. In a prewar house in the high-energy-cost Northeast, for example, a standard kitchen remodel could cut your utility expenses by $400 a year thanks to new insulation, windows, and appliances.
Even years of such savings will never come close to covering the project's price tag, but think of your lower electric and heating bills as an annual dividend.
5. Fixing up costs less than trading up
With the median home price down 22% since 2006, you might think this is an opportune time to trade up for the new master bathroom or other modern feature you want. After all, why not buy somebody else's remodeling headache at a discount.
But you can't assume that you'll easily sell your house in this tough market and then find a new place that has the exact features you want (and not a bunch of stuff you don't want). And moving remains far costlier than improving, said John Ranco, past president of the Greater Boston Association of Realtors.
For starters, commissions and fees to sell a $400,000 home could run $25,000.
"You can get a lot of remodeling done for that kind of money," said Ranco. "And that doesn't even include the higher price you're paying for the new house, the moving costs, or the inevitable painting and window treatments the new place will need."
6. You can keep that sub-5% mortgage
As long as you're not underwater and haven't wrecked your credit, you've been able to take advantage of recent rock-bottom interest rates to lock in a fixed-rate mortgage below 5%.
Move several years from now, and you'll have to give up that loan, probably for something in the sixes or sevens, said Harvard's Baker. That's not bad, but it could mean hundreds a month in added interest costs.
"If you can remodel your way into staying put long term, you can hold on to that once-in-a-lifetime rate," says Baker.
7. Smart projects still add value
In the post-boom era, the rule of thumb for gauging the potential payback from a home improvement is simple: If you're bringing your house in line with similar homes in the area, you'll most likely earn back the lion's share of the cost when you sell. If you're surpassing the neighborhood, you probably won't.
"Remodeling a 10-year-old kitchen because you don't like its style doesn't pay anymore," says Thomas Collimore, director of investor education for the CFA Institute. "But replacing a 1960s kitchen is a different story."
At least for the foreseeable future, buyers will either lowball their bids or pass on your house entirely unless you've already tackled this kind of deferred renovation.
8. You get to enjoy the results
When it comes time to sell your place, chances are you'll probably wind up having to do the sorely needed renovations you didn't take care of earlier. Not only does that add a huge amount of stress to the process of putting a house on the market, but you still end up spending the money (quite possibly when contractor, materials, and borrowing costs are higher).
Why not get the benefits of a new furnace or an updated powder room for you and your family instead of buying them for the house's next owners? And why not do the projects soon so you get as much time as possible to enjoy the results?
Unlike vacations, luxury cars, or other discretionary expenditures, your remodeling project might recoup a significant chunk of its cost someday.
Even so, home improvements aren't purely investment decisions -- you shouldn't redo a kitchen or bathroom in the hopes of making a profit. But if you want to upgrade the quality of your home life and you can afford the cost, it's money well spent.