The rise of the button-down car salesman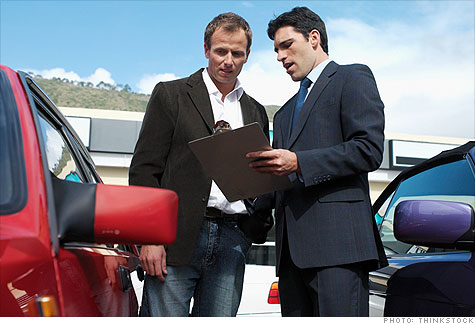 FORTUNE -- Fifteen years ago, a quiet revolution began that would permanently alter the auto retailing landscape: the first car dealership groups became public companies, selling shares and listing their financial results for all to see.
Today, as the National Association of Auto Dealers begins its annual convention in San Francisco, it is clear that the public dealer groups have been leaders in bringing uniform practices and professional behavior to the retail side of the car business -- and helped make manufacturers more responsive to consumer needs. Companies like AutoNation (AN, Fortune 500), Penske Auto Group (PAG, Fortune 500), and Group 1 Automotive (GPI, Fortune 500) have grown to become some of the industry's most important players.
But it hasn't been an easy journey. Manufacturers and independent dealers have fought the formation of these public groups from the beginning and sniping continues to this day.
Up until 1996, the dealership universe was largely a closed club of family-owned franchises. Multiple ownerships, so-called mega-dealers, were rare, so there were few economies of scale. Best practices, if any existed, were local in origin and spread erratically.
Old-line dealers energetically fought the public groups, warning that they were out of touch with local communities and lacked sensitivity to their needs. They whispered that as the public groups grew, they would use their increased buying power to extract volume discounts from manufacturers, using economies of scale unavailable to the average dealer.
The National Association of Auto Dealers led the opposition, and its complaints were echoed by the trade weekly Automotive News.
In an article in Automotive News' February 12, 1996 issue headlined "Dealer-Entrepreneur system is best," the writer argued that there was no need for change in the system. "Manufacturer and independent surveys show the vast majority of new-car and new-truck buyers are completely satisfied with their sales and service experiences, and those satisfaction rates are improving constantly."
For good measure, he went on to say, "Individual and family-owned dealerships also have proved to be loyal to their manufacturers through good times and bad."
That same year, Chrysler chairman and CEO Robert Eaton went on record to say that the automaker didn't want to deal with public superstores. "Our preferred direction is to deal with entrepreneurial owners who risk their own capital," he said.
That didn't stop AutoNation, then a unit of Wayne Huizenga's Republic Industries, from adding a new car dealer to its chain of used-car superstores and becoming a publicly owned dealer in 1996
When Mike Jackson arrived three years later, he promptly shut down the AutoNation used car operation to focus on new cars. AutoNation now owns and operates 206 dealership locations representing 244 franchises and has sold seven million vehicles. Chairman and CEO Jackson has become a prominent industry spokesman, criticizing such industry practices as channel stuffing and lobbying for an increase in the gasoline tax as a way to boost sales of fuel-efficient cars.
The success of AutoNation and others didn't put an end to sniping by manufacturers like Toyota (TM) and Saturn that wanted to limit the number of franchises the public companies could own.
Ford (F, Fortune 500) tried to fight back by going into the retail business itself, buying stakes in major-market Ford dealers and pushing them to consolidate. But unlike the public groups, Ford used a heavy hand that crushed initiative and turned off customers, eventually causing Ford to back away.
Automotive News stayed on the offensive, and drew a scolding in 2002 from industry statesman Roger Penske, who was in the process of turning around United Auto Group (since renamed Penske Auto Group).
"In his March 25 column, [editor-in-chief] Keith Crain said ownership of dealerships by large chains causes a dramatic decline in sales volume and probably in customer satisfaction... " Penske wrote. "That is not really factual. Since acquiring United Auto Group in 1999, we have increased same-store retail revenue by an average of 9.4 percent a year. [We] could not deliver the impressive results they do if [we] were not impassioned professionals."
Penske has gone the furthest in leveraging the resources of the publicly traded dealer. He acquired the distribution rights to Mercedes-Benz's Smart line of minicars and made a bid to buy the Saturn brand from General Motors (GM) in 2009. The plan collapsed when Nissan, whom Penske had counted on to supply cars to the venture, pulled out of the deal.
Despite the rise of the public groups, the sparring continues. Group 1 Automotive of Houston, the fifth largest group, makes one-third of its sales through Toyota dealers, and CEO Earl Hesterberg has been waging a quiet war against Toyota's continued use of independent distributors -- middle men who take a slice of profit on every Toyota vehicle sold in their territory.
Then Toyota sued Group 1 when it tried to buy a Toyota-Lexus-Scion dealer in South Carolina, claiming Group 1 had exceeded its limit of Toyota dealers. Another group swooped in to claim the prize. "We continue to do a good job for Toyota," Hesterberg was quoted in Automotive News as saying. "But they hurt us, and they didn't do themselves any favors, either."
The auto industry has never been known for its flexibility and dealers, protected as they are by state franchise laws, are particularly invested in maintaining the status quo. But the public companies have clearly taken the lead in bringing professional management to auto retailing.
The independents are beginning to come around. A story in the new issue of Automotive News lists areas where public retailers have set an example for all dealers and asserts, "Once considered 'clueless,' public retailers are writing the book on standard processes, controlled costs."
Since it has taken 15 years for the rest of the dealership world to catch up with the public groups, you wonder who was really being clueless.