Kenneth Cole Egypt tweets ignite firestorm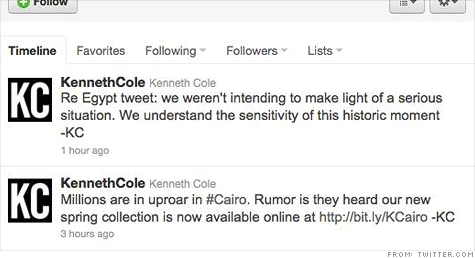 NEW YORK (CNNMoney) -- Fashion house Kenneth Cole Productions (KCP) became the target of the Internet's collective wrath on Thursday after the company's namesake chairman tweeted a promotion that joked about this week's escalating protests in Egypt.
The controversy began after Kenneth Cole posted the tweet to the company's official twitter account, around 10:30 a.m. ET: "Millions are in uproar in #Cairo. Rumor is they heard our new spring collection is now available online... -KC." The post included a link to the company's online store.
The "KC" at the end of the tweet indicated the tweet was written by Kenneth Cole himself, the company's chairman and "chief creative officer," and not by a marketing assistant or some other employee.
It came at a time when the political situation in Egypt is deteriorating rapidly, with increasing reports of violence against both anti-government protestors and impartial foreign observers in the area. CNN's Anderson Cooper was attacked by protesters on Wednesday, punched several times in the face.
Within an hour of the post, Kenneth Cole apologized, saying " we weren't intending to make light of a serious situation. We understand the sensitivity of this historic moment." The tweet was also tagged "KC" to indicate it was written by Cole.
The original tweet was also deleted late Thursday afternoon.
"I apologize to everyone who was offended by my insensitive tweet about the situation in Egypt," Cole then wrote on his official Facebook account. "I've dedicated my life to raising awareness about serious social issues, and in hindsight my attempt at humor regarding a nation liberating themselves against oppression was poorly timed and absolutely inappropriate."
The well-known U.S. shoe maker has a history of edgy advertisements that reference news events and social issues. The company currently has a line of handbags and accessories made of rubber (Cole's products are traditionally made of leather) the proceeds of which go to HIV/AIDS research. The advertising slogan is "Save a Hide, Wear a Rubber."
Even after the apology, reaction by Twitter users and bloggers was swift and vicious. Many twitter users called the tweet "repulsive" and "in bad taste."
Kathleen Schmidt, who works in public relations and uses the twitter username BookGirl96, joked "I wouldn't want to be in Kenneth Cole's shoes right now."
Investors were less concerned about the whole PR debacle. Shares of Kenneth Cole were up 1.8% in late-afternoon trading.