Cashing in on snowstorms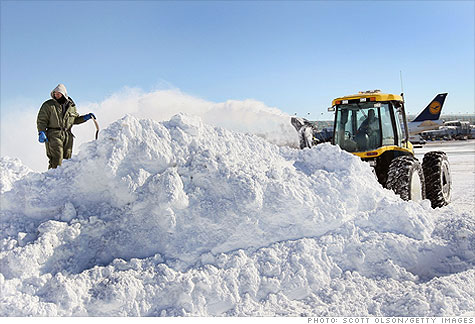 NEW YORK (CNNMoney) -- With record amounts of snow blanketing even some of the warmest cities across the nation this winter, an increasing number of companies are protecting themselves by betting on .... snow.
Unexpected blizzards and snowstorms can cost companies thousands of dollars in lost business each year.
"People have tended to have a fatalistic view of weather," said Tim Andriesen, managing director of Agricultural Commodities at CME Group. "Now more and more people are recognizing that while you can't control the weather, you can at least manage the financial impact of it."
The Chicago Mercantile Exchange, which began offering snow futures in 2006, has already sold five times more contracts this year than last year. While only 62 contracts were purchased in 2009, a whopping 317 have been bought so far this year.
Investors usually lock in snowfall contracts in September and October. Last fall, for example, a company could pay $10,000 for a contract that paid $50,000 if there was more than 50 inches of snow.
Of course, if it snowed less than 50 inches, that $10,000 would be lost. But there are plenty of other options available, depending on just how much snow a company thinks will hit the ground.
And as you get deeper into winter and start hearing about all the impending storms, the contracts become increasingly pricey.
The snowfall exchange started out with just two contracts, but expanded to six locations in 2009. Today, investors can bet on snowfall levels in New York City's Central Park as well as the major airports in New York, Chicago, Minneapolis, Detroit and Boston.
Unsurprisingly, the contracts have gained the most traction among businesses directly impacted by snowfall -- like snow removal services and companies that lay salt on the roads after heavy snowfalls.
"If there is significantly more snowfall, they have a higher cost, so this lets them manage that," Andriesen said. "If you're sitting there working on your budget and you can provide some level of insurance against increased snow, buying protection would be much less expensive than what you could end up paying if you don't get it."
Companies can either hedge against the possibility that there will be so much snow that the extra removal costs will outweigh the extra business they get, or they can protect themselves against a lack of business due to too little snow.
They can also buy a less risky contract that protects them against both -- so they would make the same amount of money either way. While that means they miss out on the extra flurry of cash they could get during a winter like this one, it also protects them against unusually mild ones as well.
Jeff Hodgson, president of Chicago Weather Brokerage, which works with snow removal companies to select snowfall derivatives, said that one client was able to cash in on the overload of snow this year and is looking at gains in the six figures.
While Chicago's average snowfall is about 37 inches, Hodgson said this particular customer took a wager that it would snow more than 49 inches this season. He bought a contract for $37,000 that would pay his snow removal company $16,000 for every inch above the 49-inch mark.
Guess what? As you may have heard, it has been dumping snow in Chicago. On Thursday, the contract settled at $130,000, and Hodgson said that if Chicago gets 10 more inches between now and the end of March, that lucky customer will have made $160,000.
And as the idea catches on, Andriesen expects other industries to cash in on the idea as well -- especially after this year's brutal winter. Airlines could potentially have held onto all the revenue they are likely losing this year from snow-related flight cancellations if they hedged their snow bets correctly, he said.
That goes for subways, buses and any other transportation services as well.
Auto, health and other insurance companies are also jumping into the fray, using the contracts to hedge against the impact that too much snow could have on their policies.
"There can be significant financial consequences from weather, and there's a much broader audience that can benefit from this," he said. "We would expect to see growth again next winter as people look back at all the snow this winter."
And as we move into spring and then summer, there are other unpredictable forces of nature you can bet against, including hurricanes, rainfall and temperature.
"People don't tend to think of summer as having weather problems, but suppose you're running a fair, investing a lot in it, and it's the make or break weekend for you and it rains -- in a case like that you might think about investing in a weather contract," Andriesen said.