Cuomo's budget hits New York schools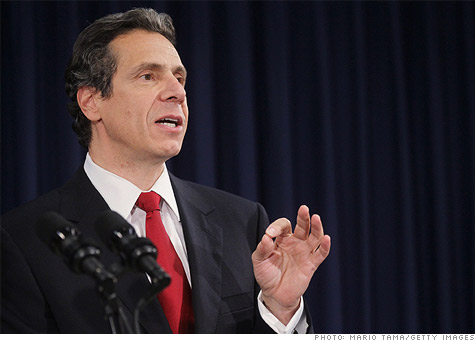 NEW YORK (CNNMoney) -- Toddlers in Yonkers, N.Y., may no longer be able to attend pre-K. Schools in Syracuse would only be cleaned every other day. And Oxford schools could lose 10% of their teachers.
Those are just a few of the steps New York superintendents say they'll likely have to take if Gov. Andrew Cuomo's proposed $1.5 billion cut in state aid to schools makes it through the legislature.
Facing a $10 billion deficit, Cuomo Tuesday unveiled a draconian budget that would slash $8.9 billion in spending for the upcoming year. The proposal, which amounts to a 7.3% reduction in school aid, comes on the heels of a $1.1 billion cut for the current year. Making matters worse, school districts are seeing most of their federal stimulus money -- which pumped $1.3 billion into the schools last year -- dry up.
"This is worse than we expected," said Timothy Kremer, executive director of the New York State School Boards Association. "It's going to be very painful to go through this process."
In his budget address, Cuomo suggested schools could handle the cut if they tapped into their $1.2 billion in reserves and froze wages.

Bracing for drastic cuts
School districts will have to make widespread reductions if Cuomo's budget stands, said Robert Lowery, deputy director of the New York State Council of School Superintendents.
Class sizes will rise. The number of elective courses will fall. Sports teams will disappear.
"Anything that's discretionary is at risk," Lowery said.
Yonkers, for instance, is looking at dismantling its pre-kindergarten program, which provides more than 1,630 tots with early reading and math skills.
"It's a real equalizer in an urban setting," said Bernard Pierorazio, the superintendent in Yonkers, where 74% of the 25,600 children are on free or reduced lunches.
Pierorazio is wrestling with a $64.5 million deficit for the 2011-12 school year, caused in part by a loss of $25 million in stimulus money and a nearly $21.6 million increase in health care and pension costs, as well as raises. The district, which lies just north of New York City, would lose $17.5 million in state aid, under Cuomo's budget.
Oxford Academy and Central Schools is only a fraction of the size, but has similar problems. The upstate, rural district is facing a loss of 6.2% of its state aid, or $630,000, on top of a $340,000 cut for the current year.
The district has already had to shed eight teachers, or 8% of its staff, in three years because of budget cuts. That's made it tougher to offer extra reading help for younger students. Teachers used to provide tutoring three times a week to one or two students at a time. Now, they work with five or six children and only twice a week.
The coming budget cuts could reduce this assistance even more. The 850-student district could be forced to eliminate another 12 positions, including nine teachers.
"We're going to be struggling to meet the needs of our struggling kids," said Oxford Superintendent Randall Squier, who added the job of elementary school principal last year for no additional pay.
Older students will feel the pain, as well. The district will likely have to eliminate some of its 24 university-level classes for high schoolers, as well as some sports teams and clubs.
Teachers aren't the only school employees who could lose their jobs, superintendents say.
In Syracuse, district officials are looking at shedding 525 employees, or 15% of the workforce, to cope with a $16.3 million reduction in state aid.
"It's the deepest I've ever seen," said Daniel Lowengard, superintendent in Syracuse, which educates 21,000 students, 77% of whom live in poverty.
The district may have to let go of 40 of its 200 custodians. As a result, the upstate New York district's 32 school buildings would be cleaned only every other day, except for the cafeterias and nurses' offices. And repairs would take longer to make.
Some districts are turning to their communities to appeal for help, said Rick Timbs, executive director of the Statewide School Finance Consortium, which represents 270 upstate districts.
Timbs is urging districts to hold more community meetings to inform residents of their district's financial troubles -- especially since nearly all districts vote on their school budget and on any proposed property tax increase -- and ask them to lobby Albany to distribute more funds to less wealthy areas.
School officials also want to let families know what impact the budget cuts will have on them.
For instance, districts may have to shorten the school day or reduce the number of bus stops.
"Parents are going to be in for a real shock," said Timbs.