Florida Gov. Rick Scott: Slash taxes by $4 billion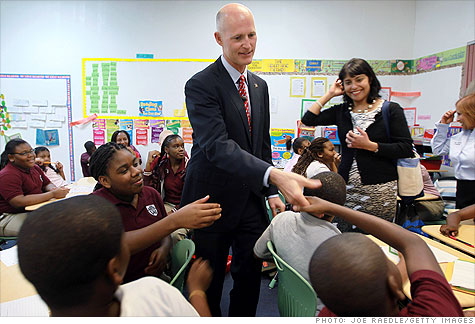 NEW YORK (CNNMoney) -- Taking an unusual tack to dealing with a $3.6 billion budget deficit, Florida Gov. Rick Scott unveiled a budget Monday that cuts $4 billion in property and corporate income taxes.
The budget, which the newly installed governor has said is the nation's most fiscally conservative, also cuts $4.6 billion in spending from services such as Medicaid and prisons. Public employees would also have to contribute 5% for their pension benefits, which will save $2.8 billion over two years.
"It clearly is a lean budget," said Scott, a tea party favorite who unveiled his budget at a rally for tea party supporters, who applauded loudly for his calls to reduce state spending.
A former health care executive, Scott is a firm believer in reducing the size of government and increasing the private sector's ability to create jobs. He has already ordered a review of all state regulations to determine their impact on job creation.
His $65.9 billion budget reflects his views that growing business is the way to get Florida out of its economic troubles. The state has the third highest unemployment rate, at 12%, and had the second highest number of foreclosure filings in 2010.
Calling his spending plan "Florida's first jobs budget," Scott said he would reduce corporate income taxes from 5.5% to 3% over two years, before eliminating the levy in 2018. He would also reduce $1.4 billion in property taxes.
And he would spend $800 million on economic development projects and incentives that promote job creation.
"Things cannot improve until we have more private sector jobs," Scott said.
Cutting taxes may not boost the Florida economy, at least not immediately, said Gus Faucher, economist with Moody's Analytics. The tax cuts must be balanced with the drop in spending, which will hurt the state's economy.
Ultimately, though, it's the Florida residents who must say what they prefer.
"They will have to decide what they value more -- the services they will end up losing or the tax breaks," Faucher said.
Scott said he will not cut state spending for schools, but the budget proposal posted online shows a $3.3 billion reduction in the education funding. The drop comes from one-time federal funds that are no longer coming in. Schools also will likely be squeezed from the drop in property taxes.
The governor also wants to reduce Medicaid costs by shifting to a system where the patients direct their care. This will reduce their health care usage and save $4 billion over two years, he said.
Also, he hopes to save $500 million by making changes to the state prison and juvenile detention systems. And some 8,700 jobs would be eliminated, with the greatest numbers coming from children and family services and corrections.
The state legislature will now weigh in on the budget, which covers fiscal 2011-12, which starts July 1, and the following fiscal year.