Exclusive: Top-secret Elmo and friends revealed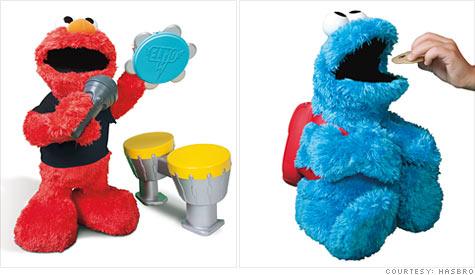 NEW YORK (CNNMoney) -- Get ready Elmo fans. The beloved red furry monster and his Sesame Street pals are back with a bang, and a band!
Elmo connoisseurs eager for the latest Elmo this past holiday undoubtedly noticed that he was conspicuously missing from store shelves.
Their wait will soon be over.
Hasbro (HAS), the No. 2 toymaker, is unveiling its version of the lovable character and has given CNNMoney an exclusive look at the new "Let's Rock Elmo," which it touts as "the most interactive toy Elmo" ever.
"With 'Let's Rock Elmo,' it's great to be able to bring to life this beloved character like never before," said Jerry Perez, general manager of Hasbro's Playskool division, which makes preschool toys.
"Let's Rock Elmo," which hits stores in the fall, and is priced at $69.99, sings and plays the tambourine and a drum set. Kids can switch the musical instruments and Elmo will recognize which one he's given.
Kids can also play along on the instruments. And Hasbro will sell a separate line of "Let's Rock" instruments that include a guitar and a keyboard. Perez said Elmo interacts with the other instruments, too.
"Kids can actually form their own Elmo rock band," Perez said. "Elmo knows which instrument you are playing and he will sing along or play along with you."
"This is a very clever toy," said toy analyst Chris Byrne. "It is an enormous step forward in making Elmo much more interactive than he's been in the past. My only concern is the price being a little high for it."
Besides his mega-interactivity, "Let's Rock Elmo" is also special because he's Hasbro's very first Elmo toy to hit the market since the company won the Sesame Street license from its rival, No. 1 toymaker Mattel (MAT, Fortune 500).
Mattel owned the Sesame Street license for 15 years under its Fisher-Price brand but lost the license to Hasbro in late 2009. Hasbro now owns the right for the next 10 years to make and market toys and games based on the characters of "Sesame Street."
Byrne said the license switcharoo is a big win for Hasbro. "They get a marquee brand that will bring a renewed focus on their Playskool brand."
Hasbro's competitor, Mattel, will likely feel the loss of the license, but Byrne said the company's Fisher-Price division has other strong brands like Dora and Sing-a-majigs that should help pull up the slack.
Elmo, not just in Santa's bag of toys: Perez said Hasbro is "hugely excited" about its new Sesame Street toys.
"We created the line based on three things," he said. "We learned that there is pent-up demand for all of the characters and not just Elmo."
He said Hasbro wants to make its Sesame Street toys a "year-round business and not just a fourth-quarter strategy with a few high-priced items" for Christmas.
And he said the new toys are much more interactive than earlier versions of the characters.
"Moms told us not to give them another 'watch-me' toy but toys that interact and engage with their kids over time," Perez said.
Hasbro's other key Sesame Street toys include "Count 'N Crunch" Cookie Monster and a Sesame Street playset.
"Count 'N Crunch is the first animatronic Cookie Monster toy," Perez said. "We've put little features in him that bring him to life in an unusual way."
Cookie Monster comes with three cookies. As you feed him cookies, he will count them and giggle and squirm.
With the Sesame Street playset, Perez said the objective was to showcase the entire cast of Sesame Street characters. "Moms told us that kids love all the characters on the show but they can't seem to find all of them in stores," he said.
The folding playset includes all of the major icons from the show, including Hooper's Store -- 123 Stoop, Big Bird's nest, and Oscar's can -- and all of the toy characters are sold separately.
Hasbro will unveil its entire Sesame Street toy line at the annual American International Toy Fair on Sunday in New York.